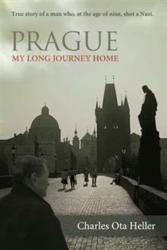 Annapolis, Md. (PRWEB) February 13, 2012
"Prague: My Long Journey Home: A Memoir of Survival, Denial, and Redemption" (published by Abbott Press), by Charles Ota Heller, is a riveting memoir about one boy's survival of the horrors of World War II, his exhilaration after shooting a Nazi at the age of nine, his escape from communism to America, and his inevitable, emotional return to his home country.
Heller's inspiration to write "Prague: My Long Journey Home" came after seeing the disdainful lack of knowledge about World War II in today's America. "I want to serve as witness," he says, "in light of Americans' (particularly young Americans') lack of knowledge of the horrors of World War II, due to the aging and disappearance of those of us who experienced it, and because of Holocaust deniers around the world."
Although writing about World War II is not uncommon – in either scholarship or fiction – Heller provides an angle that few writers can tackle: that of a child living through it. "I was one of those children," he says, "and a unique one at that: a devout Catholic boy whom the Nazis considered a Jew and slated for extermination."
Although he does not shirk from controversy, holding what some might call unpopular opinions about both the culpability of the German people and the fall of Czechoslovakia to communism, Heller doesn't diminish the other aspects of "Prague: My Long Journey Home." The book also tells an American success story about a boy who was ordered to forget everything that happened to him "on the other side" and to become "100 percent American." Heller earned a basketball scholarship, obtained three degrees in engineering and became a successful American entrepreneur before he came face-to-face with his true identity and ethnicity in post-communist Czech Republic.
"Prague: My Long Journey Home" has also been recognized by Writer's Digest as the inaugural winner of its Mark of Quality recognition award, which recognizes titles deemed to be of exceptionally high literary merit.
About the Author
Charles Ota Heller earned three engineering degrees and is an entrepreneur who founded several companies. Today, he devotes himself to writing, consulting, and serving on corporate boards. Heller lives near Annapolis, Maryland, with his wife, Sue. They have one son and three grandchildren. Visit him online at http://www.charlesoheller.com.
Abbott Press, a division Writer's Digest—the oldest and most respected publisher devoted to the education and advancement of writers—is an indie-publishing imprint dedicated to helping writers bring their literary vision to print. Author Solutions, Inc., a leader in indie book publishing, will fulfill publishing, sales, and marketing services for Abbott Press. For more information, or to begin publishing a book today, log on to abbottpress.com or call 866-697-5310.
###