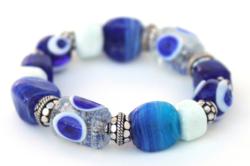 An earthy, bohemian, wear-it-everyday jewelry collection centered on the power & theory of The Evil Eye. There's nothing evil about it.....
(PRWEB) February 13, 2012
SariBlue, in association with The Artisan Group, will participate in a luxury Gift Lounge hosted by GBK Productions on February 24-25, 2012 at The W Hotel in Hollywood, California, in honor of the The 84th Academy Awards (Oscars) Nominees and Presenters.
SariBlue is a hip, wear-it-everyday jewelry collection centered on the power and theory of the universally recognizable symbol The Evil Eye. This earthy, bohemian style jewelry with a bit of an industrial edge, uses exclusive Turkish handmade glass beads which are prepared using centuries old traditional crafting methods.
The crafting process of this special glass art may be one of the oldest eco-friendly recycling methods around. Turkish artisans collect and recycle glass and melt it in their furnaces that burn low-carbon pine logs in order to shape the glass, fuse them together and create these amazing beads using only simple hand tools. Every bead fashioned has its own identity, lending every SariBlue piece its own distinctive nature.
The collection is fun, colorful, and very unique; each item adds a great conversation piece to any wardrobe while at the same time adding an ancient element of protection by wearing The Evil Eye Bead.
"Nothing Grouchy About Oscar" SariBlue exclusively handmade this Silver & Glass Bead Evil Eye Bracelet as a gift for members of the press at The Artisan Group's exhibit. This event will be attended by over 75 major media outlets.
All attending celebrities will receive a swag bag. Included in the gift bag are over 25 pieces of handcrafted items from TAG members, a full colour GBK/TAG Event Guide with Ad sponsorship from SariBlue and business cards from TAG members, including SariBlue.
SariBlue recently participated in the Luxury Lounge for The Golden Globes hosted by The Artisan Group and GBK Productions. The signature SariBlue "ONE" Pendant was featured and gifted to all attending celebrities including Mr. Jeremy Irons, Ali Fedotowsky, Elizabeth McGovern and Eric Stonestreet.
To learn more about SariBlue Jewelry, upcoming celebrity events and participation with The Artisan Group in GBK Productions' Gift Lounges, visit SariBlue, call + (978) 833-2501, or email sari(at)sariblue(dot)com.
Christine Lorenzo AKA "Sari", SariBlue's creator and sole proprietor, is a resident of Stow, MA. and a graduate of Clark University, Worcester, MA.
For press inquiries regarding The Artisan Group, please visit http://www.theartisangroup.org or email press(at)theartisangroup(dot)org.
# # #