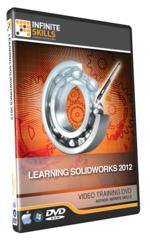 Makes Learning SolidWorks Easy
(PRWEB) February 13, 2012
Video training developer InfiniteSkills Inc has released a new SolidWorks 2012 video course emphasizing commercial drafting skills and component design. The multi-chapter training has been created as a cost effective alternative to expensive seminars and workshops as a way for beginners to learn the program's powerful tools in a self-paced learning environment, according to Colin Boyd, sales director for InfiniteSkills.
"After the success of our SolidWorks 2011 tutorial, we saw that there's a clear demand for user-friendly training," Boyd said. "Our courses stay very close to skills and techniques that have direct practical application, so there's no gap between learning the software tools and then putting them to use."
Learning SolidWorks 2012 Tutorial Video - Training on DVD
The InfiniteSkills SolidWorks 2012 Tutorial features 12 chapters that begin with basic program settings and tools and gradually increase in complexity. After giving tips on customizing the program's user interface for different workflows, the training shows how to use SolidWorks sketching tools and settings, first creating basic lines and shapes and then a basic part, an alternator cover. To teach the program's extensive modeling features, the following chapters show how to model a functional bracket and a plastic housing. Viewers learn how to work with fillets, chamfers and ribs to shape and refine functional objects within a 3D space.
Next, the course shows how to build a sheet metal enclosure, using the program's extended sheet metal toolset, creating flanges and tabs and using bends and cornering tools. From there, the training moves on to sweeps, 3D part drawings and full assemblies, with a dual emphasis on design innovation and technical precision, including the creation of a usable bill of materials detailing project requirements.
"SolidWorks is an essential tool for people involved in many different aspects of engineering and manufacturing, so we've been careful in creating a course that covers a broad range of needs," said Chris Johns, content coordinator for InfiniteSkills. "It's the perfect starting point for anyone who wants to get hands on with the program in a short amount of time, and quickly expand their knowledge from there."
Each of the 106 SolidWorks 2012 tutorials pairs onscreen real-time examples with studio quality audio narration. In addition, the training series includes usable project files that correspond to the examples used by the author throughout the course. While the training is organized to increase in complexity with each chapter, viewers are free to browse and review the SolidWorks training in any order they want, providing extended options to customers with different levels of expertise.
The full SolidWorks 2012 Tutorial Video Course can be ordered from the InfiniteSkills website on a cross-platform compatible DVD-ROM or as a direct download. Both versions retail for $99.95 USD, with custom ordering options for customers worldwide. Further information and free demos can be found on the tutorial page:
http://www.infiniteskills.com/training/learning-solidworks-2012.html
About InfiniteSkills Inc
InfiniteSkills is a leading provider of video training on popular software, programming languages and technical skills featuring the best teachers and tutors in the world. In addition to training on DVD-ROM, the company has actively pushed to publish its tutorials to eLearning and mobile app formats.
###