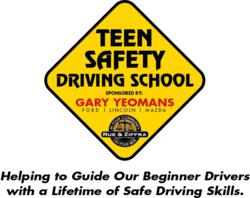 We're excited to help present this free driving school to area teen drivers," said Kim Bouck, a partner in the longtime Port Orange-based law firm.
Daytona Beach, FL (PRWEB) February 13, 2012
The personal-injury law firm of Rue & Ziffra has forged a partnership with Gary Yeoman's Ford Lincoln to present a free Teen Safety Driving School on Saturday, Feb. 18, at the Daytona Auto Mall, 1420 N. Tomoka Farms Road.
"We wanted to offer this course because there are so many accidents involving students who don't have the experience to regain control of a car that begins to lose control," according to Carlos Lira, general manager at Gary Yeoman's.
Students will be instructed in the fundamentals as well as the dangers of driving and all cars will have a drift machine attached to them for control, whether the students use their own car or one provided by the dealership, he said. "It will be a hands-on experience for student drivers."
The driving school – which is being taught by professional instructors – is open to Volusia and Flagler county drivers between the ages of 15 and 19 who have either a valid Florida Driver's License or permit. It will be taught in four separate 2½-hour classes of 25 students each starting at 8:30 a.m.
Classes have already begun to fill up and students must pre-register by visiting http://www.rueziffra.com or http://www.garyyeomansford.com.
With much of their personal-injury casework involving automobile and motorcycle accidents – many of which have involved teenage drivers – the partners at Rue & Ziffra were eager to sponsor a program that could help prevent additional accidents.
"We're excited to help present this free driving school to area teen drivers," said Kim Bouck, a partner in the longtime Port Orange-based law firm. "And, parents should know that their teens will be in good hands while they learn the fundamentals of driving on the road."
For more information about this release, please contact:
Allan Ziffra, President, Rue & Ziffra, 386-788-7700 or aziffra(at)rueziffra(dot)com
Jessica Eckelbarger, Marketing Manager, Rue & Ziffra, 386-788-7700 or jessicae(at)rueziffra(dot)com
Charlene Hager-Van Dyke, Larry Vershel Communications, 386-532-8862, 407-644-4142 or chagervandyke(at)yahoo(dot)com
###