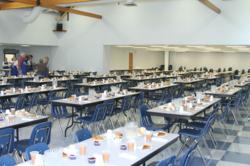 Paterson, NJ (PRWEB) February 13, 2012
On April 19, 2012, Eva's Village (http://www.evasvillage.org), a New Jersey nonprofit, will celebrate its 30th anniversary. Founded by Msgr. Vincent E. Puma in 1982 as a response to the poor and homeless in Paterson, New Jersey, Eva's Village is a non-profit comprehensive social service organization with a mission to feed the hungry, shelter the homeless, treat the addicted and provide medical and dental care to the poor with respect for the human dignity of each individual.
The mission of Eva's Village grew, as the need was recognized for expanded services. It has grown from a simple soup kitchen to become one of the most respected anti-poverty programs in the state of New Jersey and now includes fourteen integrated programs housed in numerous buildings spanning several city blocks in downtown Paterson. Eva's Village has established a commendable record in facing community challenges and providing positive outcomes in the lives of the hungry, homeless and addicted.
The 30th year anniversary celebration will include a ribbon cutting ceremony for the Kitchen and Clinic Expansion, which was completed in 2011, followed by tours for the many volunteers and donors that support the mission of Eva's Village. "Eva's Village has been able to grow and expand its services to meet the need because of the support of our many dedicated volunteers and donors," states Marie Reger, Executive Director of Eva's Village. "There is a true sense of community at Eva's Village where many of our clients become either volunteers or employees because of the need to give back to others what they themselves received."
For thirty years Eva's Village has proactively helped those in need and it does so with sound fiscal practices as recognized by Charity Navigator, an independent evaluator of the effectiveness of charities across America. Eva's Village is pleased to hold five consecutive four-star ratings for exceptional fiscal responsibility. When awarding the rating to Eva's Village, Ken Berger, President and Chief Executive Officer of Charity Navigator said, "This "exceptional" designation from Charity Navigator differentiates Eva's Village from its peers and demonstrates to the public it is worthy of their trus.t.
To learn more about the Eva's Village, or to donate or volunteer, visit http://www.evasvillage.org.
###