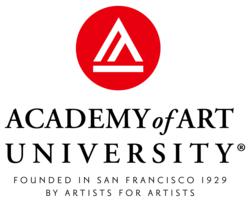 San Francisco, California (PRWEB) February 13, 2012
The Academy of Art University, the largest private school of art and design in the United States, announced today that it has awarded scholarships totaling over $100,000 to Miguel Flores, 17, of Mammoth Lakes High School in Mammoth Lakes, CA and Odell Smith, 17, of New Millennium High School High School in Carson, CA. Both students are 2011 alumni of the California State Summer School for the Arts (CSSSA), the rigorous four-week summer pre-professional training program for California's most talented high school students in visual and performing arts, creative writing, animation, and film.
Smith, a stand-out CSSSA Music Composition student, will receive a Presidential Scholarship which includes four years of full-time tuition. Flores, who will receive a two course Summer Grant Scholarship, will continue to develop his design, painting and photography skills at the Academy.
"CSSSA continues to attract and prepare some of the most talented young artists and designers in California and we are happy to help these future industry stars pursue their dreams of a career in the arts," said Dr. Elisa Stephens, President of Academy of Art University. "As a state, we need to prepare students for the jobs of the 21st century so that they can compete for those jobs and also so that businesses will stay in California and thrive for years to come. It is a great honor to partner with CSSSA to support these students and California's future economic prosperity."
In 2009, the Academy also awarded $100,000 in scholarships to CSSSA alumni. Kevin Shaw of Sonoma, who received the four-year Presidential Scholarship in 2009 after graduating from Santa Rosa High School, is currently majoring in animation at the Academy. When Shaw heard about the 2011 scholarship winners, it brought back memories of his time at CSSSA and the impact it had.
"Thanks to CSSSA, I not only discovered that a career in the arts was possible, but I was able to secure a four-year scholarship to help me pursue that career. Now, I am in San Francisco, where I am learning how to use the most cutting edge animation technologies - as well as what it takes to be successful in this industry. I am grateful for the CSSSA-Academy partnership and wish the 2011 scholarship awardees the best in their next chapter."
"Both Miguel and Odessa are incredibly talented and have great potential," said Michael Fields, Director of CSSSA. "In today's challenging economic times, financial support can be the difference maker for students who might not otherwise be able to attend college. We deeply appreciate the Academy's support and partnership in helping our alumni pursue careers in creative fields."
About The California State Summer School for the Arts (CSSSA)
Celebrating its 26th year in 2012, the California State Summer School for the Arts (CSSSA) has become one of the nation's premier summer arts institutes. It is a rigorous residential program offering a unique opportunity for students to spend four weeks in a creative laboratory studying and working with professional artists, writers and performers of national stature. To date, the program has trained more than 12,500 talented students from throughout California, the U.S. and beyond. Students who complete the program receive three units of California State University course credit, are designated California Arts Scholars and are presented with the Governor's medallion, the state's highest distinction for artistically talented students.
CSSSA graduates are some of the most accomplished professionals in their fields. Alumni include: Golden Globe winner, Oscar-nominated actor and 1997 graduate James Franco of "Oz: The Great and Powerful," the "Spiderman" movies, "127 Days," "Pineapple Express" and "Milk;" his brother Dave Franco, who attended CSSSA in 1997 and 1998, has starred in such movies as "Superbad," "Milk," "Charlie St. Cloud" and such T.V. shows as "Scrubs," "Privileged" and"Greek"; Zac Efron who starred in the movies "17 Again" and "High School Musical" (1,2,3); actress Kirsten Vangsness of "Criminal Minds"; singer and actress Teal Wicks, who starred in "Wicked" on Broadway; Emmy Award–winning animator Craig McCracken, creator of the "Powerpuff Girls" television series; recording artist and actress Katharine McPhee who stars in the Stephen Spielberg–produced TV show "Smash"; Margaret Dilloway, author of "How to be An American Housewife"; Creative Time (NYC) curator Nato Thompson; visual artist Matthew Monahan, who has exhibited at the Museum of Contemporary Art in Los Angeles and the Stedelijk in Amsterdam; and award-winning fashion designer Sophie Buhai. In addition, five CSSSA animation and visual arts graduates—Stephen Gregory, Sanjay Patel, Bobby Podesta, Mark Walsh and Tasha Harris—helped create the computer animation hits "Toy Story"; "A Bug's Life"; "Toy Story II"; "Monsters, Inc"; "Finding Nemo"; The "Incredibles"; "Cars!"; "Ratatouille"; and "Toy Story 3" for Pixar and Disney.
No student is denied admission solely because of an inability to pay tuition. Nearly 40% of the students who attend CSSSA each year receive partial or full tuition scholarships and, to date, nearly $4 million has been awarded to underserved students. This year's session runs from July 14-August 10. For more information, visit http://www.csssa.org.
About the Academy of Art University
Academy of Art University, the largest private university of art and design in the United States, is educating students for the art and design jobs of the 21st Century. Established in 1929, the Academy is an output-based higher education model that provides open admissions to all students, but imposes a rigorous curriculum that requires the students to produce a portfolio of work that demonstrates a mastery of their field in order to graduate. Students are taught by a faculty of professionals from the existing marketplace, which provides them with an understanding of what it takes to succeed in today's business environment. The Academy's hands-on curriculum produces graduates that possess great artistic and design skills -- and equally as important, the ability to put those talents to work immediately after graduation. As a result, Academy graduates are ready to compete for and win the jobs of the 21st Century in the fields of Acting, Advertising, Animation & Visual Effects, Architecture, Art Education, Fashion, Fine Art, Game Design, Graphic Design, Illustration, Industrial Design, Interior Architecture & Design, Landscape Architecture, Motion Pictures & Television, Multimedia Communications, Music Production & Sound Design for Visual Media, Photography and Web Design & New Media. Academy of Art University is accredited by WASC, NASAD, Council for Interior Design Accreditation (Formerly FIDER), (BFA-IAD), and NAAB (M-ARCH). Visit http://www.academyart.edu for more information.
###