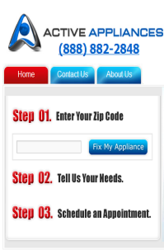 Los Angeles, CA (PRWEB) February 16, 2012
Having been in business for more than 20 years, ActiveAppliances.com has a big advantage over its competitors. Being in business for many years and having multiple locations nationwide has its distinct advantages. Unlike its small rivals, ActiveAppliances.com buys appliance parts in bulk at wholesale prices and passes along the discounts to end consumers.
Because all of company's technicians are factory trained and authorized, they have access to factory support and unlimited resources to get to the bottom of the appliance failure. For example, when consumers call for Whirlpool appliance repair ActiveAppliance.com technicians are authorized to call Whirlpool directly for technical assistance. This is also true for Maytag appliance repair and GE appliance repair as well as all other major brands of home appliances.
Process of scheduling an appliance repair appointment is easy. All consumers need to do is to visit ActiveAppliances.com, enter their zip code, and fill out the form.
ActiveAppliances.com services appliances within factory warranty period. Most manufacturers like Whirlpool, Maytag, GE and others outsource warranty service to another company like ActiveAppliances.com.
ActiveAppliances.com is also an authorized service provider from all major retailers like Lowes, Home Depot, Best Buy, Sears.
To get $5 off, consumers can call (888) 882-2848 and prepay for the service appointment or visit ActiveAppliances.com to schedule an appointment and our friendly customer service will call you to offer $5 off.
About ActiveAppliances.com
With many nationwide locations, ActiveAppliances.com is the fastest growing appliance repair service company in the industry. Visit ActiveAppliances.com to learn more.
###