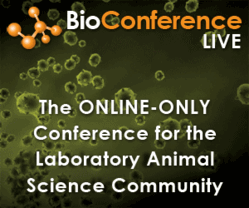 Sharing information on animal welfare science on an international level in a format that is convenient to participate in, without the travel costs typically associated with scientific conferences - Patricia Foley, DVM, DACLAM
Yorba Linda, CA (PRWEB) February 13, 2012
BioConference Live, the world's largest producer of online-only conferences, and Veterinary Bioscience Institute are bringing together laboratory animal science professionals and experts for this groundbreaking virtual conference that kicks off Wednesday February 15th at 10:00 AM Eastern Standard Time. The conference will continue for two days through Thursday February 16th at 8:00 PM Eastern Standard Time.
Laboratory Animal Science BioConference Live features live, video keynote presentations where attendees can have their questions answered by presenters in real time. The event features a virtual exhibit hall and a networking lounge to interact with world renowned experts and colleagues. Laboratory Animal Science BioConference Live is conveniently held online for free, and is easily accessed from any computer, making it time efficient and cost effective to attend.
Participants will be able to

Search and attend session(s) of their choice
Have their questions answered in real-time by experts via live videos
Receive Free Continuing Education Credits
Chat live with peers and speakers
Browse a virtual exhibit floor for solution providers
Laboratory Animal Science (LAS) BioConference Live will bring together program directors, veterinarians, veterinary and animal technicians, research scientists, and professionals from around the world to learn about recent advances in laboratory animal medicine and science. The theme of the 2012 conference is Animal Wellbeing and Welfare Science. Laboratory Animal Science BioConference Live will feature speakers in three tracks; housing, enrichment and anesthesia/analgesia.
Johnny Roughan, PhD, BSc, Senior Research Associate, Comparative Biology Centre, The Medical School, University of Newcastle upon Tyne
Joseph Garner, Ph.D., Associate Professor, Comparative Medicine, Stanford University
Timo Nevalainen D.V.M., M.S., Ph.D., DipECLAM, Emeritus Professor, Laboratory Animal Center, University of Eastern Finland
Klas Abelson, PhD, Associate Professor, Department of Experimental Medicine, Faculty Of Health and Medical Sciences, University of Copenhagen
Luis Antunes, D.V.M., MSc, Ph.D., Associated Professor at UTAD and researcher at IBMC, University of Trás-os-Montes e Alto Douro, Institute for Molecular and Cell Biology
Melissa Bateson, MA, DPhil, Reader in Ethology, Centre for Behaviour and Evolution Institute of Neuroscience, Newcastle University
Mollie Bloomsmith, PhD, Director of Behavioral Management, Yerkes National Primate Research Center
Hannah Buchanan-Smith, BSc, PhD, Professor of Psychology, University of Stirling
Lei Cao, Ph.D., Director, Inpatient Cardiology, Assistant Professor of Medicine, Cardiology, The Ohio State University
John Capitanio, Ph.D., Research Psychologist/Staff Scientist, University of California, Davis, Department of Psychology/California National Primate Research Center
Kathryn Chapman, PhD, Head of Innovation and Translation, The National Centre for the Replacement, Refinement and Reduction of Animals in Research (NC3Rs)
Sylvie Cloutier, Ph.D., MSc, Research Assistant Professor, Washington State University
Robyn Crook, Ph.D., B.Sc, Dept. of Integrative Biology and Pharmacology University of Texas Health Science Center
Robert Elwood, BSc, PhD, MRIA, Professor of Animal Behavior, School of Biological Sciences, Queen's University
Andrea Gay, BA, Regional Sales Manager and International Sales Representative, The Andersons Lab Bedding Products
Laura Graves, MA, Doctoral Student, Southern Illinois University, Department of Anthropology
Hansjoachim Hackbarth, Dr. med. vet., Professor, Director of the Institute for Animal Welfare and Behaviour, University of Veterinary Medicine Hannover
Stephen Harvey, DVM, MS, DACLAM, Assistant Director for University Research Animal Resources, Associate Professor in Population Health at the University of Georgia College of Veterinary Medicine
Jann Hau, M.D., Professor in Comparative Medicine, University of Copenhagen, Faculty of Health Sciences and University Hospital, Department of Experimental Medicine
Lara A. Helwig, D.V.M., DACLAM, Assistant Director, Division of Teaching and Research Resources, Clinical Assistant Professor, Department of Environmental and Population Health, Tufts University Cummings School of Veterinary Medicine
Debra L. Hickman, D.V.M., M.S., DACLAM, Director, Laboratory Animal Resource Center, Associate Research Professor, Department of Cellular and Integrative Physiology, Indiana University School of Medicine
Paul E. Honess, PhD, BSc, Primate Behaviour & Welfare Consultant, Bioculture Group. Special Lecturer in Laboratory Animal Welfare, School of Veterinary Medicine and Science, University of Nottingham
Robert Hubrecht, Ph.D., Cbiol, FSB, Deputy Scientific Director, Universities Federation for Animal Welfare
Kathy Laber, D.V.M., M.S., DACLAM, Professor Department of Comparative Medicine MUSC, Director, Animal Resources, Ralph H Johnson VA Me, Medical University of South Carolina
Christian Lawrence, MS, Fish Biologist, Manager of Children's fish facilities, Children's Hospital Boston
Jennifer Mather, PhD, M.Sc., Professor, Psychology Department, University of Lethbridge
David J. Mellor, BSc(Hons), PhD, HonAssocRCVS, ONZM, Professor of Animal Welfare Science, Professor of Applied Physiology and Bioethics, Co-Director Animal Welfare Science and Bioethics Centre, Massey University
Vince Mendenhall, DVM, PhD, Director, Preclinical Surgical Services
LaVonne Meunier, D.V.M., DACLAM, Director, Veterinary Medicine, GlaxoSmithKline Pharmaceuticals
Dorcas P. O'Rourke, DVM, MS, DACLAM, Professor and Chair, Dept of Comparative Medicine The Brody School of Medicine Attending Veterinaria, East Carolina University
Anna Olsson, Ph.D., Researcher, Group Leader, Institute for Molecular and Cell Biology, Laboratory Animal Science
Emily Patterson-Kane, Ph.D., Animal welfare scientist, American Veterinary Medical Association, Animal Welfare Division
Steven J. Schapiro, Ph.D., Associate Professor of Comparative Medicine, , Chief, Section of Primate Behavior and Environmental Enrichment, MD Anderson Cancer Center, University of Texas, Michale E. Keeling Center for Comparative Medicine and Research
Marc Schmidt, PhD, Director of Biological Basis of Behavior Program & Associate Professor , Department of Biology, University of Pennsylvania
Jennifer C. Smith, DVM, DACLAM, Associate Director, Taconic Farms Inc.
Suzette Tardif, PhD, Associate Professor, Cellular & Structural Biology, Barshop Institute for Longevity and Aging Studies, University of Texas Health Science Center
Anita Trichel, D.V.M., Ph.D., Clinical Assistant Professor in the Division of Laboratory Animal Resources, Veterinary Clinical Director, Research Biocontainment Laboratory, University of Pittsburgh
Annie Valuska, Ph.D., Post-Doctoral Behavior Research Fellow at Disney's Animal Kingdom, Animal Science Department, University of California, Davis
Christina Winnicker, D.V.M., M.P.H., DACLAM, Director, Enrichment & Behavioral Medicine, Charles River Laboratories
A complete list of speakers and agenda is available at BioConferenceLive.com. To register to attend for free, visit BioConferenceLive.com.
Interested in presenting, contact Abstracts@BioConferenceLive.comor call (714) 269-2986.
Interested in sponsorship, contact Sponsors@BioConferenceLive.com or call (714) 463-4673.
About LabRoots
LabRoots is a social networking utility designed to network the scientific community based on individual scientific experience, discipline, and aptitude. LabRoots is relevant for all scientists including those within the fields of Life Science, Clinical Diagnostics, Healthcare, Environmental Science, Space Science, Chemistry, Physics, Mathematics, Engineering and Computer Science.
About Veterinary Bioscience Institute
The Veterinary Bioscience Institute (VBI) is dedicated to providing an environment that nurtures and promotes active and self-directed instruction through E-learning and mobile on-site consulting/training services. VBI specializes in the art and science of experimental surgery and bioethics while promoting the responsible use of animals. The institute encourages communication and interaction throughout the laboratory animal community by providing an online platform. VBI acts as a central resource to members of the laboratory animal and biotechnology communities on matters of rodent surgery, biomethodologies, bioethics and welfare.
BioConference Live are trademarks of LabRoots, Inc. All other trademarks or service marks are property of their respective owners.
###