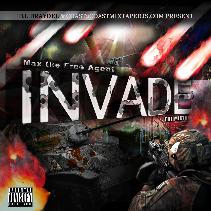 Miami, FL (PRWEB) February 11, 2012
Max The Free Agent recently released the mixtape "Invade: The Mixtape." Coast 2 Coast Mixtapes presents the project in association with DJ Drydel. It is now available for free download. "Invade: The Mixtape" features guest artist appearances from Truth, G.B.C., and Breeze Whyred. Production credits include Draydel and Maffi Diel.
Miami's DJ Draydel was introduced to music at a young age with kids freestyling behind the school and late night mixes on the radio. With much research, and many months saving money, Draydel bought his first pair of turntables at the age of 13. Ever since then, his love for music has expanded and grown into something more than just a hobby. Draydel expanded his love for music into many other elements such as graffiti, MCing, DJing and b-boying. Needless to say, DJing was his dominant talent. He moved his way into the producing aspect of music just a year later, at the age of 14. With no one by his side, Draydel learned everything the hard way—from scratch. Sitting in his room for hours going through each sound until he found one he liked started to become a daily routine.
Because he resides in the south, his musical developments reflect the region—with grimey bass kicks, high pitch whistles, and techno-based synths. His style doesn't only focus on southern hip hop beats, but with his background of music and love for all genres, he has a versatile ear for creating music from all end of the musical spectrum. With hundreds of beat placements, Draydel has started to make his stand in the music industry.
"Invade: The Mixtape" is available for free streaming and download at http://coast2coastmixtapes.com/mixtapes/mixtapedetail.aspx/invade-the-mixtape.
###