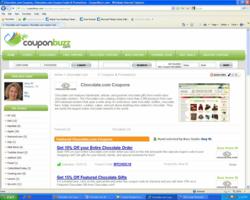 Gluten intolerance shouldn't stop anyone from enjoying their Valentine's Day in style, and when we say in style, we mean sampling an entire box of incredibly delicious chocolates
Houston, TX (PRWEB) February 13, 2012
Gift shopping for individuals who are gluten intolerant can be extremely challenging. Especially when Valentine's Day rolls around and would-be gift-givers discover that the standard grocery store box of chocolates isn't going to work out. Which is why earlier today CouponBuzz.com launched a special link to the entire gluten-free section at Chocolate.com. The link can be found on their new webpage featuring Chocolate.com coupons, and all gluten-free chocolate creations are also eligible for the site-wide 10% off coupon link which can be found right next to it.
"Gluten intolerance shouldn't stop anyone from enjoying their Valentine's Day in style, and when we say in style, we mean sampling an entire box of incredibly delicious chocolates," stated Justin Bowen, one of the management team at CouponBuzz.com. "The impressive variety of gluten-free chocolates available at Chocolate.com is just another one of the reasons we are proud to offer a webpage dedicated solely to Chocolate.com coupons."
The link to the gluten-free section at Chocolate.com allows customers who are shopping within strictly limited parameters to see everything that is available in one swift click. And CouponBuzz.com thinks the gluten-free community will be impressed with what Chocolate.com has to offer. For example, peanut-butter pillows, organic cashew balls, milk chocolate rocky road, and of course, truffles, are just a few of the dozens of gluten-free options available at Chocolate.com.
Individuals whose dietary restrictions require sugar-free chocolates have not been overlooked by the dedicated buyers at Chocolate.com. They also host a sugar-free chocolates section, which includes mouth-watering offerings like cherry cordials, dark chocolate raisin clusters and pecan caramel turtles. Chocolate.com has searched the globe for the best suppliers of gourmet sugar-free and gluten-free chocolates, and is proud to offer an ever-increasing selection.
In addition to gluten-free and sugar-free chocolates, chocolates that are organic, kosher, and vegan also have dedicated sections at Chocolate.com. All of the chocolates in these specialty sections are also eligible for the 10% off coupon currently featured on the new Chocolate.com coupons webpage at CouponBuzz.com. Both the link to the gluten-free section and the link to the 10% off offer can be accessed at http://couponbuzz.com/chocolate.com-coupons.html.
###