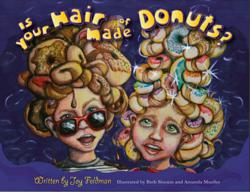 North Kingstown, RI (PRWEB) February 13, 2012
In conjunction with National Nutrition Month this March, nutritional consultant Joy Feldman is launching a nationwide crusade to inspire children to eat right. An award-winning author, Feldman will celebrate the release of her new children's book, Is Your Hair Made of Donuts on March 1.
For years, nutritional consultant Joy Feldman focused on helping an international clientele, primarily made up of adults, achieve better health through nutrition. But Feldman says she'll never forget the day a few years ago when she was struck with the inspiration to shift her focus to helping children learn to eat right—and the idea for how to accomplish that.
According to Feldman, "While walking through the airport for a very early morning departure, I was surprised when I saw young people buying and eating candy, sugary treats, donuts, drinking sodas and neon-colored liquids and consuming all sorts of unhealthy things. Bear in mind, it was extremely early in the morning and I was shocked to see what these children were eating for breakfast. Not fifteen minutes later, I saw those same children in various stages of meltdowns, tantrums, misbehavior, and general chaos. It was at that point I knew that I wanted—and needed—to help teach children make healthier food choices."
Feldman, a mother of two and award-winning author, said that the airport incident gave her the idea for a book just for young children. In conjunction with National Nutrition Month this March, Feldman will celebrate the nationwide release of her newest book, Is Your Hair Made of Donuts? A children's picture book designed to teach and inspire children to make healthy food choices, Is Your Hair Made of Donuts? explains why the phrase "you are what you eat" may be truer than children think.
But simply writing the book, at least in Feldman's mind, wasn't enough. Passionate about helping children not just learn the basics of good nutrition, but also making children want to make healthy food choices, Feldman is launching an extensive nationwide tour of schools to share the message. Feldman, who dons a whimsical, colorful, custom-made donut hat, which has earned her the moniker The Divine Duchess of Donuts, will appear in front of school children and youth groups across the country. In addition to reading from Is Your Hair Made of Donuts, Feldman invites children to take part in healthy food taste challenges, juices fresh fruits and vegetables, and gets children involved through her interactive learning program. Over the coming months, Feldman will share her message about the importance of good nutrition with thousands and thousands of children as she travels across the country. See this interview with Joy Feldman about the mission and the inspiration behind it.
Feldman says that the silly whimsical hat and funny story is just the vehicle for delivering a serious message: "Today's children are bombarded with unhealthy food choices. According to statistics, the average child sees approximately 20,000 advertisements a year for foods that can be classified as junk food. Reports of skyrocketing childhood obesity and health problems only underscore the seriousness of the message. Feeding children well is an important step towards creating good health, inspiring these children to have healthy lifestyles and reducing the nation's exploding healthcare costs from diseases associated with modifiable behaviors. The truth is that when we eat better, we feel better. And when our children eat better, they feel better. It is crucial that something be done to teach children the importance of good nutrition. My sense was that presenting that information to them in a fun and lighthearted way was the way to make an impact."
For more information, visit: http://www.isyourhairmadeofdonuts.com Joy Feldman received her undergraduate and graduate training from the University of Pennsylvania, pursued her law degree from the University of Miami, and later went on to receive her certificate in biochemical nutritional balancing science. A nutrition expert and author of the award-winning Joyful Cooking in the Pursuit of Good Health, Feldman is passionate about inspiring and teaching persons both young and old the value of healthy foods. Joy Feldman lives in Rhode Island.
Members of the news media wishing to request additional information about Is Your Hair Made of Donuts? or author Joy Feldman are asked to contact Maryglenn McCombs by phone – (615) 297-9875, or by email – maryglenn(at)maryglenn(dot)com.
# # #