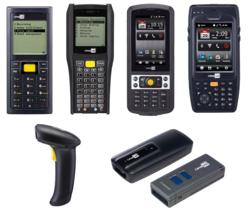 "We are thrilled to begin 2012 with a strong lineup of innovative new products for retail."
Las Vegas, NV (PRWEB) February 12, 2012
CipherLab USA, a global leader in the design, manufacture, and marketing of Automatic Identification and Data Capture/Collection products and systems, will showcase its latest line of barcode scanners and mobile computers at the 2012 National Grocers Association Show in Las Vegas, February 12th -15th, 2012 booth #306. CipherLab will have the recently launched 1664 2D Bluetooth scanner on display as well as the all new CP30, an enterprise mobile computer (Windows Mobile 6.5) designed for the demanding retail business. Stop by our booth #306 to find out how CipherLab's new 8200 and 8400 series mobile computers can help you with an Intelligent Order Entry solution and/or a Telxon replacement solution. All of which can help your company control cost and boost productivity.
CipherLab's 1564 and 1664 2D Bluetooth scanners aim to meet the growing adoption of 2D barcodes in pharmaceutical, hospital and retail settings. Smaller and lighter than a mobile phone, with optional Bluetooth® connectivity, the 1564 handheld 2D barcode scanner and 1664 2D pocket-size barcode scanner has been enhanced with more features that are surely to benefit your business's efficiency. In addition to the 2D imager, the increased on-board 4MB memory of 1664 2D scanner can store over 240,000 scans and data. The rechargeable Li-ion battery provides long working hours for all-day work, improving productivity.
The CP30 and CP45 designed for the demanding retail business, packs Windows Mobile® 6.5, 3.5G WWAN, WLAN, and WPAN wireless connectivity, as well as free programmable software into one powerful unit.
CipherLab's economical 8000, 8200 and 8400 Mobile Computer series deliver anywhere mobility in a ruggedized, ergonomic design, offering speedy barcode scanning via multiple wireless communication options. With a pocket-size form factor that exceeds industry drop standards, the CipherLab 8000, 8200, and 8400 offer up to 100 continuous hours of battery life, long range radio communication (up to 1148 feet), an easy-to-read backlit LCD screen for low light areas and the lowest possible power consumption, boosting the efficiency of workers on the go in retail and logistics settings. It's easy-to-use interface minimizes training requirements and supports a variety of software solutions including an "intelligent order entry" solution which can replace most grocery wholesalers' old Telxon, MSI and Symbol terminals. With this solutions many wholesalers can add enhancing features like 'discontinued item alerts' as well as a 'substitute item alert if available' and two way communication, which will allow a master item file to be downloaded directly to the handheld. Feel free to inquire about all and any of these products and solutions at the National Grocers Association (NGA) 2012 Show in Las Vegas.
About CipherLab
CipherLab is a global leader in the design, manufacture, and marketing of Automatic Identification and Data Capture/Collection products and systems. The company's mobile computers and scanners are integrated into the networks of some of the world's best known logistics, retail, distribution, government installations and healthcare companies, helping them run more efficiently and effectively onsite and on the road. Operating worldwide, CipherLab is headquartered in Taipei, Taiwan with offices in China, Germany and the USA, and is publicly traded on the Taiwan stock exchange (Taiwan OTC: 6160).
# # #