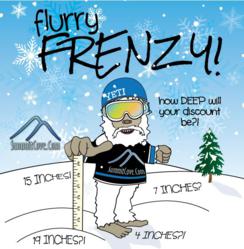 Savings increase as the snow accumulations increase at Keystone Resort.
Keystone, CO (PRWEB) February 12, 2012
Keystone Resort is expecting new snow totals of up to 19" this week from a round of storms in Summit County, Colorado. SummitCove Vacation Rentals, located in Keystone, Colorado has released the 'Flurry Frenzy' discount program for the week based on total snow accumulations. The more snow that falls this week, the larger the Keystone lodging discount guests will receive for stays through early March at SummitCove.
The 'Flurry Frenzy' discount begins on Sunday, February 12th with 20% off SummitCove lodging with snow accumulations of 0-4" reported in Keystone. The discount will progress to 25% off with totals of 5-9", 30% off with totals of 10-15" and 35% off with snow totals of 15" or more.
Each day, SummitCove will add the new accumulation to the snow total to reach the final discount amount on Thursday, Februrary 16th. Guests have the option of booking right away to secure their preferred lodging, or waiting on the final accumulation total on Thursday, February 16th for the opportunity to receive the largest discount.
The Flurry Frenzy discount will be available for reservations of 2 or more nights through March 9, 2012. Reservations must be made by Saturday, February 18th and will be based on snow accumulations totals through Thursday, February 16th only. The discount may not apply to all SummitCove vacation properties, and is valid for new reservations only.
With the addition of a foot of snow in the previous week plus predictions of new snow, some much needed fresh powder is adding up. The new snow makes for nearly perfect conditions for skiers and snowboarders hitting the Colorado slopes this month. February and early March mark one of the best times in the ski season to visit Keystone Resort. Visit the SummitCove Vacation Rentals website for further information on Keystone, Colorado Vacations.
# # #