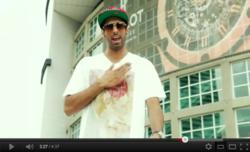 Miami, FL (PRWEB) February 12, 2012
Coast 2 Coast Films' November video contest winner Zami recently released the official video for his single "I Can Make It Happen." Presented by Coast 2 Coast Video Distribution and filmed by James Mills for Coast 2 Coast Films, it is now available to view at Coast 2 Coast Mixtapes. As part of the contest prize package, Zami was flown to Miami to film the video for the single.
Southern California rapper Zami is a visionary in hip hop music—bringing a refreshingly honest sound to the industry while staying ahead of current mainstream trends. Zami originally got his name from his former DJ moniker, DJ Zammy. Growing up, Zami was caught up in all sorts of juvenile situations both inside and outside of school. The "teen rebel" complex vanished when he would throw himself into writing or recording music, thus revealing his natural talent. This isn't your average bad boy turned good story, rather a tale of a good boy becoming better—hence the movement "Good Guy Music" he brings with him.
Zami's music is respected not only for being catchy, but for being honest. If you listen closely, it isn't hard to tell that this artist is anything but fabricated. Zami is bringing a refreshing flavor to the industry for 2012 and onward with his combination of lyrical art containing life lessons everyone can relate to, and neck-breaking club bangers. The young rapper released his first mixtape titled "Ears Wide Open" in September 2011, and since then has been working on his newest yet-to-be titled two-part mixtape, slated for release in Fall 2012. "I Can Make It Happen" is Zami's single, a tribute to everyone who has worked hard to achieve their goals.
"I Can Make It Happen" is available to view at http://www.youtube.com/watch?v=3GnY5ySCSNY
# # #