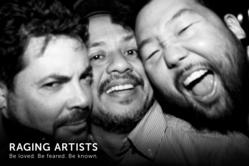 You believe you can reach someone through humor and we want to prove you right.
Los Angeles, CA (PRWEB) February 13, 2012
Who needs comedy writers? Late Night talk show hosts? Check. TV Series and Feature Films? Check & Check. Brands, Public Speakers, and Politicians? No doubt. And what makes a great comedy writer? "I approached our resident Internet guru, Praveen, with a challenge," said Justo Diaz, CEO and Head Writer of creative content and marketing firm Raging Artists, Inc. "I contended that a person who rarely interacts with people and has never been on stage can kill an audience with laughter -- if the writing is strong enough." Validated by audience reaction to newly minted comic Praveen Angyan, RA has formally added comedy writing to its roster of services. http://youtu.be/eovQJp-hnIY
"Great writers convert pain into entertainment -- call it 'enterpainment'," said Raging Artists Founder/CCO Hershel Rephun, a writer and performer whose work spans TV, Film, Radio, the Web and the stage. "The greater the trauma, the bigger the punchline. It's not about sadness at all, it's about release." Rephun, Diaz, and partner Ernie Noh have been writing and performing stand-up comedy for the past six months; now, they have launched another comic in the form of Angyan.
"I've watched RA grow as a writing machine for PR, marketing, and now comedy," said Angyan. "It's inspiring. You feel if you are not willing to get on stage or write an entire set, then you're not a Raging Artist." Like Pixar and Google, Raging Artists' corporate culture permeates its offices as well as its business model. "The commitment to creative writing is the pillar of the company, and the guys keep pushing boundaries," he noted.
"Writing is our main service, so we demand that our entire staff write," Diaz affirmed. "Great writing naturally rises to the top, so we ensure quality through competition."
Raging Artists now extends the 'Angyan Challenge' to all comers. "We can elevate any project with great comedy writing," declared Noh. "You believe you can reach someone through humor and we want to prove you right." Speaking globally, said Diaz, "I want to develop a company that lives through comedy and tragedy. That is what defines us."
The writing team at RA is crafting and work-shopping the material of Angyan, who next appears at Flappers, on February 15. "To a degree, we're creating a monster," concluded Rephun, "a monster I'd like to open for at some point."
Raging Artists Comedy Writing services are available now -- cheaper in bulk -- while supplies last.
###