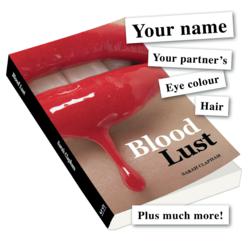 U Star Novels are delivering their giftable e-books right up until Valentine's evening!
(PRWEB) February 13, 2012
The countdown is on, the pressure is building, expectations are high. With less than 24-hours until cupid strikes twelve, we're hoping everyone's got their Valentine's Day in order! But, just in case time has eluded you, U Star Novels.com, a site that lets lovers personalize their own romance novels, have made their books available as a giftable e-book, just in time for V-Day, enabling customers and their Valentines to be swept away on a fun, romantic adventure.
Named as one of the 'Sexiest Gifts Ever' by Cosmopolitan magazine, customers simply answer a number of personal questions; nicknames, eye color, favorite food, music, perfume, lingerie color etc. and then select one of 11 personalized romantic e-books to star in. Each novel ranges in sexual content from sensual and romantic to x-rated, appealing to a wide audience.
Choose from Fever in France, Spanish Sizzle, English Encounters and other steamy sounding titles, and customers will be entwined in a love story - perhaps being chased by diamond smugglers in the French Riviera, discovering a hidden tomb in Naples or doing whatever it takes to escape being drawn into the vampire underworld forever in latest erotic title, Blood Lust.
U Star Novels can deliver their personalized e-books to anyone with an email address right up until 14th February 2012. E-Books are available for $17.95. For more information on each book, please visit http://www.ustarnovels.com.
Media Contact:
Katie Olver
U Star Novels
P: 866-586-5603
E: kolver(at)ustarnovels(dot)com
###