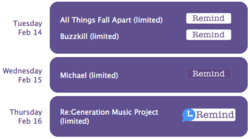 Each movie has an adjacent Remind button that lets visitors schedule a free reminder about that motion picture.
(PRWEB) February 13, 2012
Cronote's new movie reminder page - http://www.cronote.com/movies.shtml - lets individuals schedule free reminders about upcoming feature films. Each movie has an adjacent Remind button that visitors can use to remind themselves or their friends about the upcoming movie. The user may choose to send the movie reminder via email or text message. The default reminder time is the day the movie opens in theaters, but users may change this time to any future date.
The movie reminder page demonstrates the utility of the Remind button. New movies are released on a weekly basis and it can be difficult to remember the release date of each film. With the Remind button it's easy to remember when each movie comes out. Users simply visit http://www.cronote.com/movies.shtml, find the movie they want to remember, and use the Remind button to schedule the reminder.
Individuals and businesses can add their own Remind button to their websites. Simply signup for an account on the main Cronote website and use the online tool to build a Remind button. The tool generates code for the Remind button that may be copied and pasted into the HTML of another website. The Remind button works great for encouraging users to remember upcoming products, events and performances. The reminder could, for example, be delivered 24 hours before a product is available for purchase. Visit http://www.cronote.com/Remind.shtml to learn more.
About Cronote
Cronote is a service for creating reminders that are sent via cell phone text message or email. A Cronote reminder is a 100-character message sent via email or text message, delivered at a specified time. Reminders may be created for personal or business use. The Remind button is Cronote's novel website widget that provides a cost-effective way to help customers remember online products.
Cronote is a web-based company established in August 2010 by graduate students from Yale University and the University of California, Irvine. Cronote aims to provide quick and easy ways to schedule reminders. Visit http://www.cronote.com/movies.shtml and tryout our movie reminder service today.
Privacy Policy
Under no circumstances will Cronote redistribute or in any way use individual email addresses or phone numbers for any purpose other than sending the single reminder requested by the user. To learn more about Cronote's commitment to privacy, please see our full Privacy Policy on the main Cronote website.
###