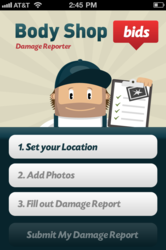 Chicago (PRWEB) February 13, 2012
Sixty percent of Americans have had sex in a vehicle, and just under half have performed or received sexual favors while the vehicle was in motion. That's according to a recent survey by BodyShopBids, a website and mobile app that provides custom auto repair estimates from photos.
The survey provides unique insight into the feelings and behaviors of men and women when it comes to both their partners and their vehicles.
Among the survey's findings:

Drivers in a relationship are nearly three times more likely to think that they are a better driver than their partner.
By a nearly 4-to-1 margin, respondents think that their partner is more likely to get into an accident than they are.
Respondents believed men are better drivers than women by a more than 2-to-1 margin. Less than 10 percent of men believe women are superior drivers.
More than a third (34.5%) of those surveyed have gotten into an accident while arguing with their significant other.
Six out of every 10 respondents admitted to having sex in a vehicle. Just under half (45.5%) reported performing or receiving sexual favors while the vehicle was moving.
For more of the survey's findings, visit the BodyShopBids website.
Accessible for free via iPhone, Android and the Web, BodyShopBids connects consumers who need auto body repairs with body shops through a unique bidding system. Consumers upload a photo of their damaged vehicle and receive several custom quotes from nearby body shops within 24 hours. A personal BodyShopBids representative is available to walk the consumer through the repair process. From there, the consumer can choose an estimate and book an appointment with the body shop.
The BodyShopBids mobile app is available for download on both iPhone and Android devices. Body shop owners who wish to join the network can sign up by visiting BodyShopBids' Web page for shop owners today.
About BodyShopBids
BodyShopBids is a Chicago-based startup that provides a Web and mobile platform to connect consumers who need auto body repairs with body shops through a unique bidding system. The company's technology allows users to easily upload photos of damaged vehicles and receive custom quotes from local body shops, all for free. BodyShopBids is backed by OCA Ventures, New World Ventures and Lightbank. For more information, visit http://www.BodyShopBids.com.