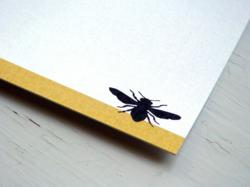 Stamford, CT (PRWEB) February 13, 2012
Fiona Designs®, in association with The Artisan Group, will participate in a luxury Gift Lounge hosted by GBK Productions on February 24-25, 2012 at The W Hotel in Hollywood, California, in honor of The 84th Academy Awards (Oscars) Nominees and Presenters.
All attending celebrities will receive a set of Fiona Designs' stationery and thank you notes in their swag bags. This event will also be attended by over 75 media outlets.
Fiona Rohde, founder of Fiona Designs, is passionate about graphic design. It is expressed through uniquely designed personalized stationery and greeting cards that are sold online in her Etsy shop. Fiona's lifelong artistic skills were fostered at the University of Connecticut and furthered at Parsons School of Design where she earned her first design award from HOW Design and most notably, a Master of Fine Arts degree. Her broad corporate and non-profit design experience includes positions at Lincoln Center for the Performing Arts and United Rentals. Fiona's award-winning corporate work and Fiona Designs stationery have been featured in Real Simple, Celebrity Living, People, Graphic Design USA, Redbook Online, hgtv.com, iVillage.com and AKC Family Dog Magazine.
Fiona Designs recently gifted Hollywood actress Ginnifer Goodwin with a personalized set of stationery through The Artisan Group.
Fiona Rohde, Fiona Designs' sole proprietor, is a resident of Stamford, Connecticut.
To learn more about Fiona Designs, or Fiona Designs' participation in GBK Productions' Gift Lounge, visit http://fionadesigns.etsy.com, http://www.facebook.com/FionaDesigns, http://twitter.com/fionasdesign, call 203-570-8380, or email fiona(at)fionadesigns(dot)com.
###