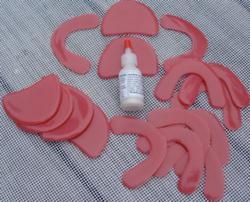 Well, I slept with both - and did not lose them last night - amazing how much better my gums and the roof of my mouth feel.
Toms River, NJ (PRWEB) February 14, 2012
Originals By Weber, Toms River, NJ 08753, Terry Weber, owner, announces their new always soft and comfortable Weber Denture Liners are immediately available: The Weber Denture Liner Kit (Pat. Pend.) is made for wearers of loose, uncomfortable or hurting false teeth. Denture wearers can install the long lasting soft liner themselves at home with no mixing needed. It can stabilize and anchor troublesome upper or lower dentures and hold them firmly in place for better comfort and control while: eating, talking, smiling. sneezing and kissing.
This is a (patent pending) highly efficient, always soft denture liner compound designed as a do-it-yourself method of lining or re-lining loose dentures (false teeth) at low cost and with no mixing required.
Denture liners are often needed to fill spaces between gums and denture because of normal gum shrinkage after extraction of natural teeth. This shrinkage can cause new, properly fitted dentures to get looser and looser as time goes by. Sometimes the loose denture causes sores or tender places on gum tissue thus making chewing or speaking a painful or embarrassing experience.
The Weber Denture Liner Kit solves the problems of loose, painful and uncomfortable dentures at low cost. To use, the false teeth wearer (1) removes the denture, using fingers, lays the soft, flexible, easily moldable liner compound onto the upper surface of the hard plastic denture where the compound then self-adheres to the denture and remains firmly in place. (2) Denture is then put back in the mouth and, using bite-pressure the wearer adjusts it until there is no movement or rocking of the denture. (3) Denture is again removed, sprinkled with denture adhesive powder (supplied in kit) to hold denture securely in place. (4) Denture is put back into mouth and is then ready for comfortable all day use.
When Weber was asked what kind of feedback he gets from his customers he replied: "Let me give you just a few comments I've had:"
"This product solved a BIG problem-grateful to have found item! Thank you so much"
"I love your product, rather like a silly putty and it works. I have worn dentures for over 40 years and it is the best."
"Well, I slept with both - and did not lose them last night - amazing how much better my gums and the roof of my mouth feel - I may have to add a bit more liner - but even my lower partial is feeling better. thanks "
"Excellent product,as described, fast shipping"
 "Excellent in all respects"
"After 3 years and $5,000 spent with my teeth, you saved my life with the liner dentures.I order more today thank you thank you sincerely."
Weber Denture Liners kits are available with a variety of different contents. One or more liners can be used in layers according to need to fill in all gaps. The easily removable and re-moldable liners can be re-used many times. The number of times one liner can be used is the wearer's personal choice. Suggest daily rinsing of the denture and liner with running water.
One Weber Denture Liner Kit #RK-4 with 4 circular liners (can be shaped as needed) is priced at $22.95 plus $3.00 (for First Class Mail shipping and handling) from Toms River, NJ. Another Weber Denture Liner Kit #PF-10 has 10 Pre-formed Weber Denture Liners shaped as uppers & lowers, with 5 of each uppers and lowers per kit & priced @ $39.95 plus S/H @ $3.00. For more information or to order, write to Originals By Weber, Attention: Terry L. Weber, 338 Alabama Avenue, Toms River, NJ 08753 or go to website for complete details and video. http://www.originalsbyweber.com/page/page/4578911.htm
###