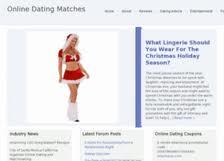 The Valentines Day Gift Guide for 2012 focuses on creative ideas, rather than expensive ones. This will make your gift come from the heart.
Manhattan Beach, Ca. (PRWEB) February 13, 2012
Leading relationship and dating advice website, http://OnlineDatingMatches.com is pleased to announce their annual Valentines Day Gift Guide for 2012. The focus for this year is on creativity, rather than expensive gifts. Based in part on the economy, the list suggests ideas that are a bit out of the ordinary, but still very romantic.
The gift guide is a 10 year old tradition and showcases unique and interesting gifts to give your significant other, outside of the same old boring box of chocolates and a Hallmark card from the local drugstore. Such unique items as writing an erotic novel starring both husband and wife (or boyfriend and girlfriend) top out the list of creative, but not expensive ideas for 2012.
Says owner and author Karen Kauffman: "For the past 10 years we have given couples great last minute gift ideas for Valentines Day. In 2012 we are focusing on couples who have met through an online dating site and are celebrating their first Valentines Day together."
OnlineDatingMatches.com is a 10 year old dating and relationship advice website and has been featured in the Herald Australia, Chicago Tribune and various local online newspapers and dating and relationship websites. They have also been the recipient of several online awards and mentions in the local press.
###