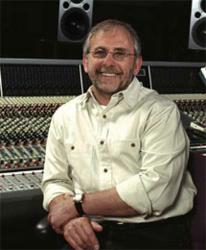 New York, NY (PRWEB) February 13, 2012
Elliot Scheiner Wins His 7th Grammy.
Eric Clapton's "Layla And Other Love Songs" wins Best Surround Album at Grammy's 2012.
One of the world's foremost producers and engineers, Elliot Scheiner, has picked up his 7th Grammy today (Sunday, February 12) for his work as both producer and 5:1 mixer on Eric Clapton's "Layla And Other Love Songs" (Polydor).
This was Elliot's 25th nomination and his 7th win - something of a record for a producer/engineer. Elliot also has an Emmy and 3 TEC Awards to his credit and has been responsible for producing some of the best known and most popular musical artists in history, including Fleetwood Mac, Sting, The Eagles, James Brown, Aerosmith, Van Morrison, SteelyDan, Paul McCartney and Queen, to name just a very few. He has also produced soundtracks for movies including The Godfather I and II and Meet The Robinsons, among others.
Joe D'Ambrosio of JD Management Inc, who represents Elliot quotes directly from the venue in Los Angeles: "It's always an honor to be nominated and a privilege to win a Grammy; and Elliot is delighted, of course"
Colleagues that also worked on the Eric Clapton project included Bob Ludwig, surround mastering engineer, and Bill Levenson. The project was produced and mixed at Trackman Productions, Elliot Scheiner's private studio.
Elliot Scheiner is represented by Joe D'Ambrosio at JD Management Inc. JD Management are celebrating 10 years in this business in 2012.
For more on Elliot and on JD Management please visit: http://www.jdmanagement.com
Media contact: Kevin Fetterplace at Mojo Working Kevin(at)Mojoworking(dot)com
###