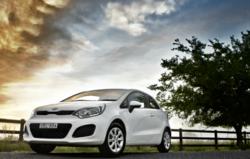 (PRWEB) February 15, 2012
To celebrate the launch of the award-winning new Rio range, Kia has introduced a special launch offer of unbeatable drive away pricing for selected 3-door and 5-door models.
The sporty new Rio 3-door S manual will be zipping out the door at $15,990 and just $17,990 will secure the automatic version.
The 5-door is now available at $16,990 drive away for the S manual and $18,990 for the automatic.
Launch special prices will remain in place until March 31.
# # # ENDS # # #