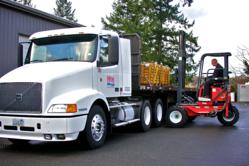 "Delivery after delivery, Mr. M came through for us." Doug Scarlett, Scarlett Custom Homes
Acme, WA (PRWEB) February 20, 2012
Mr. M LLC is providing rapid response teams nationwide as a new option in home delivery, helping to fill an important niche in the trucking industry.
"There is a need for professional drivers to help maintain existing contracts of service that include home delivery of a product," says Mark Madera, the company founder. "Mr. M has a proven track record and high standard of customer satisfaction; we know how to get the job done."
Americans depend on trucks to deliver nearly all the goods families and businesses depend on for daily life. What goes on from shipping dock to customer front door is a critical component in this process. Service break downs due to lack of man power are common, though often avoidable. This impersonal link in the chain—the trucking service—affects customers personally. Mr. M is a proven asset and solution both to trucking companies in need of temporary help to avoid service failure and for the retail business interested in hiring a carrier with an excellent record in last mile delivery. With the ability to mobilize quickly and efficiently, Mr. M is a new solution to enhance customer service. Retail companies and contractors now have an additional carrier to choose, one that will help them maintain high standards, dock to door.
"Mr. M delivered in some pretty tough conditions to a tight job site day after day. We had to work around DOT and GSA projects and a highly exposed environment. Delivery after delivery Mr. M came through for us." Doug Scarlett, Scarlett Custom Homes
To learn more about Mr. M LLC visit http://www.mrmtransportation.com or call 360-815-3514.
###