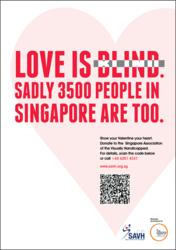 One person becomes visually handicapped every 5 seconds, and 7 million people turn blind every year
Singapore, Singapore (PRWEB) February 14, 2012
The Singapore Association of the Visually Handicapped (SAVH), in conjunction with The Planning Agency Singapore, will be launching a social media campaign, tomorrow, Valentine's Day to remind people to spare a thought for the visually handicapped, in the spirit of the longstanding adage, "Love Is Blind."
Research shows that there is a person who becomes visually handicapped once every five seconds, with an estimation of 7 million people going blind worldwide every year. There are approximately 39 million visually impaired people worldwide.
SAVH's viral social media campaign, targeted mainly at users of popular social media platforms Facebook and Twitter, aims to spread awareness amongst people towards this often neglected group of individuals in society.
The campaign invites people to spend some time during the day thinking about the challenges faced by the visually impaired. SAVH also appeals to the public to make a donation to aid the beneficiaries of the Association.
###