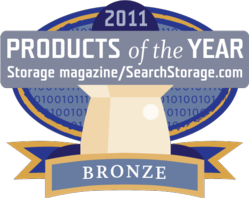 San Jose, CA (PRWEB) February 13, 2012
Infineta Systems, the first and only provider of WAN optimization systems for Big Traffic workflows, today announced that Storage Magazine and SearchStorage.com bestowed Bronze recognition for Infineta's Data Mobility Switch (DMS) product on behalf of their annual Product of the Year award in the networking equipment category. Out of hundreds of entries and six finalists, including products by Intel and Brocade, a panel of judges selected the DMS as a winner, giving the product high scores for performance. The DMS was the only WAN optimization product selected for this honor. According to one judge, Infineta's flagship WAN optimization product is the "highest performing WAN optimizer currently on [the] market," while another called Infineta's ground-breaking deduplication technology a "significant innovation."
"We are delighted that Storage Magazine and SearchStorage.com's panel of judges have recognized the groundbreaking capabilities of our DMS product," stated Haseeb Budhani, Vice President of Products at Infineta Systems. "This award underscores the leadership approach Infineta has taken in helping enterprises prepare and implement next-generation WAN optimization solutions to handle Big Traffic challenges."
Infineta Systems is the first networking company to develop and market commercial WAN optimization systems that accelerate inter-data center WANs running at up to 10Gbps wire speeds. Powered by its Velocity Dedupe Engine™, the Infineta DMS delivers unrivaled levels of throughput and scalability. With enterprise data sets reaching aggregate volumes in the 100s of terabytes to petabytes, and storage needs doubling every year, there is a dire need for scalable WAN optimization solutions to accelerate the large volumes of data being transferred between data centers. The DMS serves as a critical building block for enterprises grappling with Big Traffic workflows such as high speed replication and remote backup, cross-site storage and server virtualization and Big Data.
About Infineta Systems
Based in San Jose, California, Infineta Systems is a privately-held, leading provider of WAN optimization systems for Big Traffic. The company's patent-pending Velocity Dedupe Engine™ delivers unprecedented levels of throughput, scalability and bandwidth capacity to support critical machine-scale workflows across the data center interconnect. Its flagship product, the Infineta Data Mobility Switch, accelerates multi-gigabit BCDR business continuity/disaster recovery), cross-site virtualization, and Big Data traffic. The company is backed by Rembrandt Venture Partners, Alloy Ventures and North Bridge Venture Partners. For more information, visit http://www.infineta.com.
Infineta, Infineta Systems, Data Mobility Switch, and Velocity Dedupe Engine are trademarks or registered trademarks of Infineta Systems, Inc., in the U.S. All other product and company names herein may be trademarks of their respective owners.