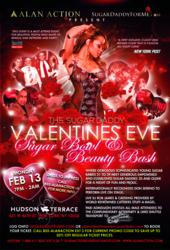 The sugar culture is fast becoming a staple of American society. Our Valentines Eve Sugar Party will put the sweetness back in sweetheart, with the most refined sugars from around the world converging for mutually rewarding relationships.
New York City, NY (PRWEB) February 13, 2012
SugarDaddyForMe.com will celebrate the sugar daddy revolution and over 3.5 million members worldwide with The Valentines Eve Lingerie Sugar Bowl and Beauty Bash at the Hudson Terrace in New York City on February 13, 2012. The only coupling at this Valentines event will be between fructose and glucose, with over 600 of the most affluent, successful, gorgeous and empowered sugar babies and sugar daddies expected to arrive looking for mutually rewarding relationships.
Website founder and CEO Gautam Sharma will attend the sugar extravaganza with two female members of the site who have had life changing experiences since starting their sugar journeys.
Expected celebrity guests include star athletes of The New York Giants, cast members of the Style Network's Jersylicious, Vinny Vella of The Sopranos, and returning sugar party patron Giani Russo from The Godfather.
VIP sugar daddies from around the world will pull in to the New York City megaclub in exclusive Ultimate Class limousine buses and stretch limos appointed by world renowned event planner Alan Action.
A legion of Star Quality Models dressed in beautiful lingerie will be present at the event. At the sugardaddyforme.com filling station, guests can receive a free profile and upgrade on the site.
The sugar daddy crowd will include doctors, entrepreneurs, business executives, lawyers, entertainment moguls and millionaires hailing from a variety of industries. Sugar baby attendees will include college students, aspiring actresses, models and entrepreneurs looking for for classy and mature gentlemen to pamper them and help support their dreams.
Event details:
Tickets for the event are $50 for sugar babies and $100 for sugar daddies. Considering the high demand for admission to this event, we recommend buying tickets online at sugardaddyforme.com in advance of the party. Contingent on availability, tickets will be sold at the door beginning at 6:30 pm EST on Monday February 13, 2012.
About SugarDaddyForMe.com:
Affectionately known as the birthplace of online sugar daddy dating, the worlds largest dating site for sugar daddies and sugar babies with over 3.5 million members has set the mold for the sugar daddy cultural phenomenon since launching in 2005. Recently featured in MTV's True Life episode "I Am a Sugar Baby," Good Morning America, The New York Times and numerous other TV shows, publications, documentaries, and anthropological studies, SugarDaddyForMe.com is the original dating site for sugar daddies and sugar babies looking for mutually rewarding relationships.
###