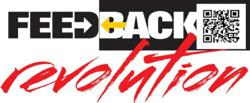 Fiverr will take care of relationship feedback for $5. We provide real time customer feedback for businesses and it's FREE!
Boise, ID (PRWEB) February 13, 2012
Honest feedback is often hard to give, but critical to a strong relationship. The same is true with a business, it needs to be based on honest real time customer feedback. South Office LLC announces Feedback Revolution QR to solve honest customer feedback quamdry.
For many people, Valentine's Day is not about cupid, candy and cards… it's about how do I dump the one I'm with?
Why is this?
"The answer is simple. People are uncomfortable giving honest feedback to significant others as well as businesses. That is why people use Twitter, Facebook and Yelp to rant about an experience with a business," said Martin Baird Chief Feedback Officer at Feedback Revolution QR.
Baird continued, "We scanned Fiverr and found a dozen people that would be happy to help with a persons Valentines Day breakup needs. Ranging from calls and emails to even a video breakup. One person wrote that they would "write a sweet goodbye letter, max 200 words, so you can break up, with grace and dignity, for $5".
Feedback Revolution QR has solved the feedback problem for businesses. Comment cards don't work. The only people that use them are "lovers" or "haters". Baird said, "Asking people to go online or call a phone number after they leave the business is a little like asking the person you just dumped to take you to dinner."
"Every business owner knows the only people likely to leave social media reviews are the occasional unhappy customer, "haters". It's frustrating and negatively affecting businesses. But South Office, the leader in free real time customer feedback, has fixed all that. We're proud to introduce Feedback Revolution QR," said Martin Baird Chief Feedback Officer.
As a result, Feedback Revolution QR, was created to provide a free real time customer feedback service to help businesses add value to the customer's experience and improve business practices. Feedback Revolution QR weds the technology of smartphones with extensive customer experience research published by Harvard, making this service a game changer in customer feedback.
Because the service is quick and easy, people are more likely to participate and provide valuable customer feedback. The customer scans a custom QR code with their smartphone. The customer types or uses speech to text to share their comments on the phone and then transmits their feedback by touching a "submit" button.
"We hope to avoid some business break ups by helping the business learn in real time what the customer wants and needs," says Martin R. Baird.
It takes less than 60 seconds to provide customer feedback. Customers can also participate on their computer or any other device that has an Internet connection, using a URL for the customer survey. Their responses are anonymous, so they can be honest about their customer feedback without guilt.
"Fiverr will take care of relationship feedback for $5. We provide real time customer feedback for businesses and it's free." Explains Baird
About Feedback Revolution QR
Feedback Revolution QR is a free service and uses advanced customer feedback technology to give businesses a leg up when it comes to collecting and analyzing customer feedback. By making it fast and easy customers share their feedback directly with the business.
About South Office LLC
South Office LLC helps businesses measure and manage the quality of their customer experience and make improvements to their internal operations to enhance business performance and increase revenue. The company focuses on providing tools that create real time customer dialog.
###