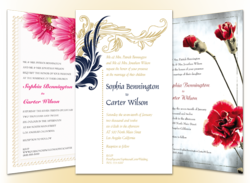 2.1 million brides or parents will spend an average of $659 each on wedding invitations. PartyPOP.com celebrates the Valentine's Year, the Year Of LOVE by giving away all wedding invitations for free.
Hollywood, CA (PRWEB) February 13, 2012
2012 is "Valentine's Year", the "Year Of Love": Every day in 2012 is a Valentine's day. The idea was created by S@my Montechristo to counteract popular doomsday theories for 2012. The world's largest online network for parties, weddings and events, PartyPOP.com, celebrates the "Year Of Love" with a groundbreaking campaign.
Every day in 2012 PartyPOP will give a gift to any bride, groom or their parents in the United States, U.K. and Canada. The Valentine's Gift consists of an entire set of Free Wedding Invitations: designed, printed & shipped with matching envelopes and a matching wedding website.
PartyPOP.com's wedding invitations are completely free, there are no hidden fees, now or later, no need to print anything at home and no strings attached.
All brides will receive their gift at PartyPOP.com. Daisy Pop, PartyPOP's spokeswoman says that 2012 is a great year to pop the question: "The Chinese have the Year of the Dragon. We have the "Year of Love", the "Valentine's Year". Some say the best Valentine's gift is .... money .... . We believe that brides, grooms or their parents who receive our free invitations can spend more on a bigger cake or a longer honeymoon."
This year more than 2.1 million brides or parents will spend an average of $659 on wedding invitations in the U.S. to invite an average of 178 guests per wedding. PartyPOP.com will provide wedding invitations printed on 80 lbs paper at no cost.
About PartyPOP.com - the leading wedding, party and event online network:
Before the Internet era, the professionals at PartyPOP.com were successful hands-on party planners and special event producers. For more than a decade PartyPOP has translated 30 years of party planning experience onto the Internet. Millions of vendors are listed on the network consisting of 60+ websites and tens of millions of customers have used the network to plan their parties, weddings and events.
PartyPOP.com also provides party and event related tips, themes and ideas as well as a free full wedding planning software called Seating Arrangement.
About Free Print Invitations by PartyPOP:
PartyPOP provides every bride and groom across the USA, Canada and the UK with free beautifully designed wedding invitations, printed on 80lbs card stock paper, plus matching envelopes and wedding website. Even the shipping door to door is free.
There are no hidden fees, no obligations to buy and no strings attached.
###