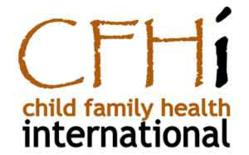 We have a very small staff and a global operation, so using different social media platforms to create community is a smart and efficient way for CFHI to work
San Francisco, California (PRWEB) February 13, 2012
Child Family Health International (CFHI), has accepted the invitation from Social Media Week San Francisco, to participate as part of a panel of social entrepreneurial organizations making use of social media to do good.
"We have a very small staff and a global operation, so using different social media platforms to create community is a smart and efficient way for CFHI to work," said Steven Schmidbauer, CFHI's Executive Director, who will join the panel. He went on to say, "CFHI has many hundreds of health science students participating in our Global Health Immersion Programs every year and we now have over 6,000 CFHI alumni scattered across the globe so we are always trying to increase and improve our social media presence."
CFHI will join other organizations as part of the Social Entrepreneurship panel hosted by San Francisco State University as part of Social Media Week San Francisco. Social Media Week events are also happening in other major cities including New York, Paris, Hong Kong, and Tokyo. The panel titled Social Entrepreneurs: Companies Created for Social Good, will take place at 10:00 a.m., on Wednesday, February 15, 2012 on the fifth floor of 835 Market Street in San Francisco.
About CFHI
Founded in 1992, CFHI (http://www.chfi.org) is a non-government organization (NGO) operating at the grass-roots level to provide transformative global health education experiences and community empowerment in developing countries and underserved communities. CFHI offers 20 global health immersion programs designed to broaden students' perspectives about global health -as well as a variety of community health initiatives and projects - in developing countries including Bolivia, Ecuador, India, Mexico, and South Africa. More than 6,000 students have participated in CFHI programs to date. CFHI has been granted Special Consultative Status with the Economic and Social Council of the United Nations (ECOSOC).
###