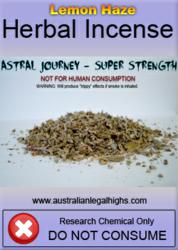 The Herbal Hash blew me away, and actually tasted and smelled like real hash! An incredible product.
Sydney, NSW, Australia (PRWEB) February 13, 2012
After the massive battles the Kronic brand faced last year, not to mention all online retailers of legal highs (resins, smokes, pills, powders etc…), it has confused a lot of Australians as to what is and is not legal. In a nut shell, anything that can be ordered online from an overseas vendor will most likely be held and destroyed by customs, even if the product ordered is a "grey area" product (such as analogues of JWH-018 and AM-2201).
In the search for legal high producers in Australia, Australian Legal Highs seems to be the best of the best. A simple name, as well as a simple and easy to use website, ordering from Australian Legal Highs is a breeze. The packaging and quality of these products would be comparable to Beer and Fine Champagne (where this company, is the Fine Champagne of the current Australian Legal Highs industry). This company really know how to produce A grade products. The best part is, everything on the Australian Legal Highs website is currently legal in Australia.
Some products they have on offer are:
Herbal Hash - This will blow away, it actually tastes and smells like Moroccan hash!
Lemon Haze Herbal Incense – Astral Journey is a blend comparable to nothing seen in Australia since the bans took hold last year. No anxiety to speak of, just a simply peaceful journey to the bedroom.
MDME capsules - This product is comparable to the real thing, so much euphoria was had.
These products have been tested for legality by a local university in Melbourne Australia to make sure they contained NOTHING which is illegal in any Australian state. The products Australian Legal Highs produce, are all 100% legal in Australia. This includes Western Australia, where the laws are extremely strict.
So where will this leave the Legal High "scene" in Australia? If companies like Australian Legal Highs keep producing products as good as they currently are, it is possible the Australian Government may perhaps clamp down on rogue on-line stores, and only allow certain vendors to sell their products freely. Australian Legal Highs will be one of the companies which will be around for a long while.
All in all, Australian Legal Highs would have to be one of the best companies you will ever have the pleasure of dealing with. As Jason Travello, owner and creator of this business says "By giving Australians a real alternative to illegal narcotics, I feel that Australian Legal Highs could change the way every day Australians look at legal high products".
Australian Legal Highs will provide 100% legal "alternative" products, best of all, products which blow the competition out of the water.
###