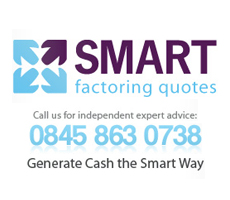 (PRWEB) February 14, 2012
Smart Factoring Quotes have recently sourced a confidential invoice discounting facility for a Manchester based security company. The security company had been operating on a bank overdraft which had proved to be restrictive as the business had grown.
The security company provides security staff across the UK to shopping centres, leisure facilities, pubs, clubs and restaurants. Due to significant growth the business was suffering from cash flow problems. This is a common feature of many growing businesses.
The security company had approached their own bank for a confidential invoice discounting facility and had spent 6 weeks progressing application. Unfortunately, they had not met the stringent criteria for the bank's invoice discounting proposition and had been offered a factoring facility. This meant that the facility would not be confidential which was a key requirement for the directors of the security company.
The directors of the security company approached Smart Factoring Quotes with a challenge to find them a cost effective confidential solution. From the first phone call to the company receiving funding it took just 7 working days.
Ian Hepworth, Director, Smart Factoring Quotes, comments, "It is great to work with a successful company and help them with their continued growth. Cash flow can become an issue for many growing businesses and in a way they become victims of their own success. The directors knew exactly what they were looking for and our expertise allowed us to quickly and efficiently source the facility that they wanted"
With the right finance in place the security company are taking advantage of new opportunities and turnover is growing month on month.
Smart Factoring Quotes offer impartial and independent advice to businesses looking for invoice factoring facilities. When looking for a factoring or invoice discounting facility Smart Factoring Quotes help business owners to make informed decisions by fully explaining their options to them. Importantly, there is no 'hard sell' approach, just good impartial advice.
###