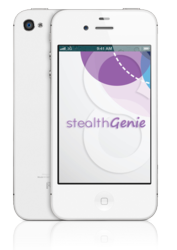 In January, we released our innovative version that offered support to iOS 4 and received great response from our users worldwide
(PRWEB) February 14, 2012
StealthGenie has recently unleashed its highly developed version of iPhone monitoring application compatible with iOS 5. Being the pioneers in the market for offering compatibility with Apple iOS 5, StealthGenie, yet again, has proven to be the best mobile monitoring application till date.
Amanda Wade, the head of the marketing at StealthGenie, while speaking at the launch ceremony said, "We take pride in being the first ones in the market to unleash our version that offers support to iPhones running on iOS 5. Users can easily keep a check on their targets using the latest OS by Apple, without experiencing any glitches." She further added, "We continue to maintain the reputation of introducing innovation in design, technology and features offered by StealthGenie and aim to raise the bar for mobile monitoring to the ultimate convenience."
StealthGenie offers a convenient and secure method of monitoring iPhones, keeping the phone user oblivious of being under 24/7 surveillance. Once installed, it begins functioning automatically and simultaneously copies and uploads data from the target phone onto the user's private account maintained on the secure online interface.
"In January, we released our innovative version that offered support to iOS 4 and received great response from our users worldwide," exclaimed the Customer Support Executives at StealthGenie, Nicole Sullivan and Rick Foster. Other than iPhones, they briefed on how StealthGenie has been providing support to Android and Blackberry phones and are persistently working on extending support on tablet computers and iPods in the near future.
When discussing the features supported by the newest release on iOS 5, the lead developer at StealthGenie Martin Krajnak exclaimed, "This latest iPhone application supports the same features that iOS 4 compatible version provides. They include Call logs, SMS logs, access to phone book contacts, browsing history and bookmarks saved on phone's browser and viewing any pictures saved within the phone's images folder. Similar to iOS4, users will be allowed to use Geo Tracking feature to locate their target iPhone user, which can be seen on a map shown after logging into the account on the website." When explaining the installation process for this compatible version, he explained that for an iPhone, the phone needs to be jail-broken before to enable the installation process. To read further details on the installation method, kindly visit the website, http://www.stealthgenie.com.
"There is still a lot being done to introduce newer features to astound and benefit our users. We plan to announce their launch as soon as our rigorous QA team gives us a green signal on them," said Amanda.
StealthGenie is highly-developed Smartphone monitoring software, offering compatibility with Android, iPhone and Blackberry. Catering to the needs of employee monitoring and child monitoring, StealthGenie is used for various commercial purposes, which includes providing services to law-enforcement agencies owing to the reliable, secure and high-tech tracking and monitoring features.
# # #