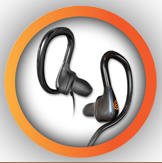 The world's first self-fit custom earphones, now available to buy online in the UK
Walton on Trent, Derbyshire (PRWEB UK) 15 February 2012
Custom moulded to the unique shape of an individual's ear canal in just a few minutes, these ear plugs will stay put, never fall out or cause discomfort, even in the most extreme active environments. Sculpted eers also promote safe listening habits, helping to protect hearing in today's sound-filled world.
Sculpted eers by Sonomax® bundles more than a dozen patented technologies into a disposable fitting system that creates the customized earpiece.
"Since ears are more unique than fingerprints, perfect fit and comfort can only be achieved with custom-fit earphones. As the world's first self-fit, custom earphones, eers fill a huge void in the headphone market" said Nick Laperle, President and CEO of Sonomax Technologies Inc. "Our newest eers are the product of many years hard work and are truly a testament to Sonomax's role in the future of in-ear products."
Sculpted eers are now available in the UK, direct from Sonomax UK http://www.sculptedeers.co.uk
Brian Powell, MD of Sonomax UK said "Interest in this unique product is really taking off, and industry feedback has been exceptionally good. This revolutionary self-fit technology was featured on the BBC's flagship technology programme "Click" http://news.bbc.co.uk/1/hi/programmes/click_online/9675963.stm and this has generated a demand from MP3 users in particular, who are looking for improved sound quality and ear plugs that are really comfortable and stay put.
We are now delighted to announce that Sculpted eers are available to buy online in the UK, direct from Sonomax UK. Visit http://www.sculptedeers.co.uk for more information and to buy.
About Sonomax UK
Sonomax Technologies Inc. is a leader in the product development, research, and licensing of in-ear technologies. With more than 50 patents and trademarks worldwide, Sonomax's pioneering innovation includes instant custom-fitting earpieces that deliver the most comfortable, protective and sound-enhancing experience in the world, as well as software-driven solutions for validating earpiece performance. Sonomax recently introduced sculpted eers™ line of custom fitting earphones which feature the latest SonoFit™ system.
Sonomax UK is the main UK supplier of Sculpted eers in addition to the full range of Sonomax custom hearing protection products.
###