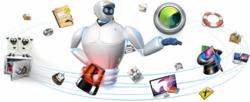 San Francisco, CA (PRWEB) February 14, 2012
Macworld has a well earned reputation as one of the world's largest tech events and a place where new products and services are released to the public. With an estimated 45 thousand visitors in attendance over a 3 day period, you can find an attentive audience for all things tech. The event has a unique atmosphere and many of the vendors & exhibitors have fun and use innovative ways to attract allot of attention to their booths and products. One of the most original exhibitors at the MacWorld 2012 was ZeoBit LLC the makers of the popular bundled software MacKeeper. The ZeoBit booth had a team of 15 people, video crew, free gifts and a really powerful presentation of what the software is and what it does. For the ZeoBit team the event was more than just a chance to network and explain what MacKeeper can do, it was also the launch and release of their new MacKeeper 2012 bundled application.
The new version of MacKeeper is a result of the last 2 years of listening to our customers and getting their ideas, feedback and input" said Sana Paul a spokesperson from ZeoBit. She also explained that there were over 150 new improvements in the latest version including a more accurate location report from the Anti-Theft feature. "This is one of our most powerful functions in the MacKeeper bundle and the ability to recover a lost or stolen Mac gives our users the safety and security that simple data management applications can not" says Sana Paul. It is a known fact that each year thousands of computers are lost or stolen and that without security software the chances of them ever being returned are nearly zero and that is what makes MacKeeper a powerful necessity.
The concept of combining multiple applications in one simple user interface is what ZeoBit's primary goal was in creating MacKeeper. There are a total of 16 utilities that range from file recovery, data encryption, internet security and a complete range of data management tools. "MacWorld was the perfect place for us to launch our latest software and meet many industry professionals and Mac users" says Sana. MacWorld is a Mac user's dream come true and you never know who you will see and what new products will be unveiled next year. Check out the official MacKeeper website for more information.
###