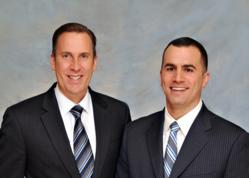 Big banks have gone too long without being held to some laws with regard to short sales.
Waltham, MA (PRWEB) February 18, 2012
John McGeough and Anthony Lamacchia, co-brokers/owners of McGeough Lamacchia Realty, Inc., fully support a new bill introduced this week that they believe will help the real estate market by stabilizing home prices and reducing the housing inventory.
Senators Lisa Murkowski, Scott Brown, and Sherrod Brown are proposing a bill requiring mortgage lenders to make a prompt decision on whether to allow a short sale at the request of a home buyer. This bill, "Prompt Notification of Short Sales Act," will require a written response from the lender no later than 75 days after the receipt of the written request from the buyer.
Making it easier for buyers to purchase short sales will reduce the amount of time it takes to sell these homes and reduce the overall number of foreclosures. This benefits home sellers, buyers, lenders, and neighborhoods with distressed properties.
"If this bill goes into law in time it would contribute to an increase in home prices because it would get more buyers to buy short sales and more sellers to pursue short sales," says co-broker/owner John McGeough.
This bill will require that the lender's written response to the buyer must specify whether the request was approved, if more time is required, and, if they do need more time, the servicer must estimate a date a decision will be reached. The loan servicer is limited to one extension no longer than 21 days. This will give the distressed homeowner a more definite timeline for when the short sale will be completed so they can plan their move better.
"We applaud Senators Brown, Murkowski, and Sherrod for putting together guidelines that banks must follow," says co-broker/owner Anthony Lamacchia. "Big banks have gone too long without being held to some laws with regard to short sales."
Back in April 2011, Representatives Thomas Rooney of Florida and Robert Andrews of New Jersey introduced a similar version of this bill but it never came up for debate before a House committee before the legislative session ended.
The previous version of this bill said that that if a borrower submitted a written request for a short sale of a home and if they didn't receive a written response within 45 days, the request would be considered approved. This new version extends the response time for lenders but includes a penalty if they fail to comply.
If the loan servicer doesn't respond to a buyer's request within the 75 day period, the buyer may be awarded $1000, plus reasonable attorney fees, per violation of the Act (this Act does not apply to mortgages where the borrower and the servicer have entered into a written agreement before the date of the enactment of this Act).
This bill would hold banks accountable to specific standards that they must follow, streamlining the process for everyone involved in the short sale transaction. It would make short sales more attractive to buyers and eliminate the uncertainty related to buying a short sale, resulting in more sales of distressed properties. This reduction of housing inventory will assist the stabilization of home prices and the real estate market.
About McGeough Lamacchia Realty:
McGeough Lamacchia is the #1 Real Estate Agency in Massachusetts and named one of the Top 100 Real Estate Teams in the country by the Wall Street Journal. In 2011 they sold more homes in Massachusetts than any other real estate agents or teams for the second year in a row. They are a full service real estate agency specializing in short sales in Massachusetts and New Hampshire.
Learn more about short sales by viewing the The Truth About Short Sales.
For more on this story, visit the New England Short Sale Blog.
###