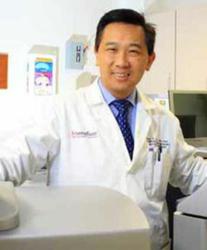 New York, NY (PRWEB) February 14, 2012
Dr. Roy Chuck, leading surgeon in the Bronx is the newest member of the elite Haute Living Haute MD Network. An exclusive invitation-only group, the doctors representing the network are at the pinnacle of their industries. Dr. Chuck was handpicked for his exceptional skill in Lasik surgery. Haute Living Magazine will feature Dr. Chuck as an exclusive Haute MD.
Read more about him here. http://www.hautemd.com/doctors/dr-roy-chuck-md/
About Haute MD Network
The exclusive Haute Living Haute MD Network is made up of the most prestigious doctors across the US. Doctors are revered and invited for their skill in one of nine specialties: Breast, Face, Smile, Nose, Skin, Body, Bones, Hair, and Lasik. The Haute MD blog is frequently updated with groundbreaking news, trends and events in the industry, and is the ultimate source for finding the best doctor in your area. Visit http://www.hautemd.com today.
About Dr. Roy Chuck
Dr. Roy Chuck graduated from Columbia with a combined MD-PhD and then became a professor of Engineering and Ophthalmology at UCI. He is currently Chairman of Ophthalmology at Albert Einstein College of Medicine. He holds multiple patents and has authored over 100 papers and 10 chapters in books.
Dr. Chuck is a member of the Trusted Lasik Surgeons Network. During his entire career, he has performed thousands of Lasik, cataract and corneal transplant surgeries.
###