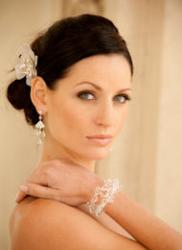 The devil is in the detail, and we focus on finding versatile and classic pieces that complete the bridal ensemble, that have the elegance to instantly transform a woman into a radiant bride and will hold special memories for a lifetime
UK (PRWEB UK) 21 February 2012
New online jewellery boutique Disgraceful Grace launch their bridal collection this month showcasing designs from international bridal designer Justine M Couture, making them one of a very select group of retailers to offer UK brides pieces from this US based designer – coveted bridal jewellery designs that will transform a beautiful dress into a dream bridal gown and go on to hold sentimental wedding day memories for a lifetime.
Proprietor of this new e-boutique Julia O'Hara, firmly believes that wedding day elegance is more than just the right bridal gown, "The devil is in the detail, and we focus on finding versatile and classic pieces that complete the bridal ensemble, that instantly transform a woman into a radiant bride " says Julia. "Justine's designs are the jewel in our Disgraceful Grace crown, distinctive designs that have a timeless quality, elegant pieces that could be 'something borrowed' for future generations" she adds.
Born in England, jewellery designer Justine Murray moved to the US and set up her label in Southern California in 2000. Until the launch of Disgraceful Grace, only a small selection of her pieces have been available to UK brides. The online accessibility of the Naturally Captivating Bridal Collection sees a significant ramping up of UK accessibility to her designs. "Each piece in the Justine M Couture range is its own unique work of art that hails back to a time when elegance in fashion was more important than a passing trend" says Justine, describing the line as "reflecting her English heritage - both vintage contemporary, with a timeless classic underlying element that is the key to its success."
The full Disgraceful Grace bridal range includes the obligatory hair accessories, earrings and bracelets alongside hard to source items like lariat and back drop necklaces, wedding dress sashes, clip-on earrings, shoe clips and clutch bags. Even if you can't initially find exactly what you are dreaming of, a bespoke service is available to turn girlish dreams into reality.
With shopping via smartphones an increasingly popular measure to keep pace with life, and sales via mobile platforms expected to double over the next three years, this independent e-boutique is launching with a mobile platform for multi-tasking brides on the go. They have also embraced the social side of wedding preparation online by including a Social Store where a selection of products can be added to a shopping spree without having to leave Facebook at all.
###