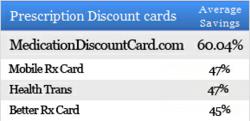 All too often people are forced to decide between paying their bills or purchasing the prescriptions they need. We aim to help alleviate that problem
New York, NY (PRWEB) February 16, 2012
Leading prescription saving company MedicationDiscountCard.com announces the donation of free electronic and plastic prescription cards to the uninsured in America. The card is available as an iPhone app, a copy that can be printed from the Internet, or a plastic card sent by mail.
It is estimated that there are over 47 million uninsured Americans under the age of 65. Because insurance in this nation is mostly obtained through employers, the unemployed all too often lose insurance benefits. Many small business owners cannot afford health insurance for themselves or their employees. This means that millions of hard-working Americans, and millions more who are willing to work, have no access to medical care and cannot afford the high cost of prescription medicines. "All too often people are forced to decide between paying their bills or purchasing the prescriptions they need," said Founder of MDC, Jeremy Duboys. "We aim to help alleviate that problem."
MDC has a solution to help the uninsured obtain their medications. The solution is a free prescription card that gives discounts of 10% to 75% percent on brand name and generic drugs. All FDA approved medications are covered. There is no membership fee, no physical exams, and no health restrictions. The pharmacy card can be used immediately, even by those who already have prescription coverage. All the card owner has to do is show the prescription card to the pharmacist. The use of the card is unlimited, and there is no expiration date. MedicationDiscountCard.com offers discounts at 63,000 U.S. pharmacies, such as: Walmart, Walgreens, Publix, Rite Aid, CVS and Kroger. MedicationDiscountCard.com offers an easy to use Cost/Pharmacy locator to help card holders see how much they will save and find the closest participating pharmacies.
Unlike other discount prescription cards, MDC does not keep brand name rebates as a separate profit line. Instead, those savings are transferred to a MasterCard debit card issued by the company. Currently, MedicationDiscountCard.com offers savings that are roughly 13 percent higher than the competition.
MedicationDiscountCard.com is a leading provider of free prescription cards in the U.S. Visit http://medicationdiscountcard.com to download or print the free prescription discount card. An online form to request that a physical prescription discount card be sent in the mail can be filled out here: http://medicationdiscountcard.com/contact-us/. The free MedicationDiscountCard.com iPhone app can be downloaded at http://medicationdiscountcard.com/iTunes.
###