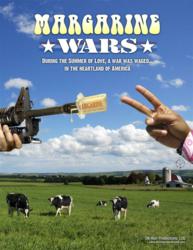 Margarine Wars is Coming
Chandler, AZ (PRWEB) February 13, 2012
During the month of May 2011 the cast and crew of Margarine Wars, a romantic comedy, came to Richmond and Armada to make a movie. Most of the cast and crew were Michigan residents as well as vendors that were used. It was filmed on the streets of Armada and Richmond MI, Chaps in Richmond, Coon Creek Farms, Rowley Dairy, and The Aud. So to honor the people of Michigan the world premiere will be held at the Emagine Theater March 21st.and 2 charities will benefit from this.
As part of this event $5 of each ticket sold will be given to the Macomb Food Program, "Providing Food To The Hungry People Of Macomb County" . In addition The Aud, will be selling Margarine Wars merchandise, shirts, hats and mugs, and 100% of all the profits will go to The Aud. The Aud is a non-profit organization that provides after school programs for the kids in Richmond, MI .
As part of this event several Michigan based companies will be setting up table to give attendees samples of their products. Some of these are Achatz Homemade Pies, Kars Nuts, Pure Naturals Water Filtration, and Giovanni's Appetizing Foods.
DB Rich Productions LLC is ready to release Margarine Wars. This comedy is about New York Afro-Jew Howard Schmear who becomes stranded in a small town in the middle of Wisconsin. In order to escape this town and get his van, em bus, repaired, he must sell the one substance that is deemed forbidden and illegal in this conservative town of Butterfield, Wisconsin. Howard pleases the stomachs of town residents but in the process he causes an uproar. Margarine Wars gives viewers an inside-look into the unusual mannerisms of a small town.
Requests for tickets should be emailed to: mwarspremiere@gmail.com
###