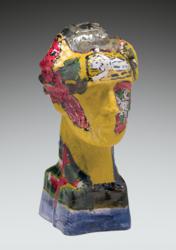 I saw [Eisch's] work and I realized that he was doing what I wanted to do – play with the glass, to make forms that had no other reason for being than that he wanted to make them.
– Harvey Littleton
Corning, NY (PRWEB) February 14, 2012
As part of the Museum's celebration of the 50th anniversary of the American Studio Glass movement, the work of European glass innovator Erwin Eisch will be featured in an exhibition at The Corning Museum of Glass, March 15, 2012 – February 3, 2013. Eisch's non-traditional approach to glassmaking had a profound impact during the formative years of the American Studio Glass movement, and his relationship with American glass pioneer Harvey K. Littleton forged an important link between European and American studio artists working in glass.
Masters of Studio Glass: Erwin Eisch will feature 22 objects made between 1964 and 2004.
"Spontaneous, expressive, and bold, Eisch's work explores human emotions and spirituality, often incorporating elements of the human form," says Tina Oldknow, curator of modern glass at the Museum. "Eisch was one of the first artists working in glass to completely eschew function, and his expressive forms inspired the work of American Studio Glass founder Harvey Littleton."
In 1962, two groundbreaking workshops at the Toledo Museum of Art, led by Littleton and glass scientist Dominick Labino, introduced artists to the material of glass as a medium for artistic expression and kickstarted the American Studio Glass movement, which emphasized the artist as designer and maker. That summer, following the workshops, Littleton traveled to Europe where he encountered Eisch's work in glass He compared the experience to "being hit over the head with a hammer."
Said Littleton, "I saw [Eisch's] work and I realized that he was doing what I wanted to do – play with the glass, to make forms that had no other reason for being than that he wanted to make them."
Littleton and Eisch became close friends and colleagues, with Eisch playing a role in European studio glass similar to Littleton's in American glass. Both men encouraged young artists to take up the material as a medium for contemporary art. In 1967, Eisch traveled to the University of Wisconsin-Madison as a visiting professor to work with Littleton and his students. This fruitful exchange resulted in a prolific period for both artists. One of the highlights of Masters of Studio Glass: Erwin Eisch is the seminal Eight Heads of Harvey Littleton (1976), a multiple portrait of Littleton that includes eight mold-blown and enameled heads, each representing a different aspect of Littleton's personality.
Erwin Eisch is internationally known for his mold-blown and painted glass sculptures, which often take the form of male or female portraits. Born into a family of glass engravers, Eisch was trained as an engraver, but he also studied painting, industrial design, and sculpture at the Academy of Fine Arts in Munich. In 1952, he and his father and brothers founded a glass factory at Frauenau, where he worked as chief designer. Eisch built a small furnace in the basement of his factory in 1965. This was where he made his own work, and where he invited his friends—artists from around the world— to come and experiment with glass.
Masters of Studio Glass: Erwin Eisch is part of a series of exhibitions at Museum mounted in celebration of the 50th anniversary of American Studio Glass. Currently on exhibit are Founders of American Studio Glass: Harvey K. Littleton and Founders of American Studio Glass: Dominick Labino, highlighting the seminal work of these two icons of the Studio Glass movement. From May 19, 2012 – January 6, 2013, Making Ideas: Experiments in Design at GlassLab, which will be on view May 19, 2012 to January 6, 2013, will honor the spirit of freedom and experimentation with artistic process that characterized the early years of the American Studio Glass movement with a focus on new glass design and the Corning Museum's own GlassLab program.
The Corning Museum of Glass is the foremost authority on the art, history, science, and design of glass. It is home to the world's most important collection of glass, including the finest examples of glassmaking spanning 3,500 years. Live glassblowing demonstrations (offered at the Museum, on the road, and at sea on Celebrity Cruises) bring the material to life. Daily Make Your Own Glass experiences at the Museum enable visitors to create work in a state-of-the-art glassmaking studio. The campus in Corning includes a year-round glassmaking school, The Studio, and the Rakow Research Library, the world's preeminent collection of materials on the art and history of glass. Located in the heart of the Finger Lakes Wine Country of New York State, the Museum is open daily, year-round. Kids and teens, 19 and under, receive free admission.
###