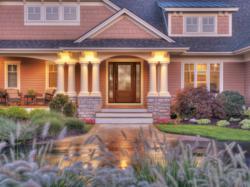 These new products lean heavily toward design trend desires of both homeowners and builders.
- Dave Randich
President
Therma-Tru Corp.
Maumee, OH (PRWEB) February 15, 2012
Therma-Tru, the nation's leading manufacturer and most preferred brand of entryway doors, has introduced a variety of new privacy glass options and door designs to meet consumer needs.
"Therma-Tru continues to respond to marketplace needs with the introduction this year of more products that meet consumer and builder demands," says Dave Randich, president of Therma-Tru Corp. "These new products lean heavily toward design trend desires of both homeowners and builders. One example of this is the continued growth and popularity of the Craftsman style. Another is the request for more privacy in the home, which can now be achieved by our privacy glass offerings available across our entire portfolio of door options."
Marking its 50th anniversary in 2012, Therma-Tru specializes in providing aesthetically-pleasing, award-winning door options and entryway solutions from a single supplier.
New Products for 2012

Privacy Glass Collection – Available as an option in virtually every Therma-Tru door collection, the four triple-paned privacy glass families from Therma-Tru offer natural light and privacy to any home. The new best-in-class assortment of textured Chord, Chinchilla, Rainglass and Granite glass designs can be requested for both doorlites and sidelites.
o Chord glass features a vertical, flowing pattern reminiscent of waves on the water.
o Chinchilla glass resembles a free-flowing configuration, presenting quiet lines and unique curves.
o Rainglass encompasses ripples of cascading water in an elegantly-fashioned glass.
o Granite glass features a coarse grained arrangement with surface variations over the entire piece of glass.
Unique to Therma-Tru, each privacy glass panel is triple-paned and ENERGY STAR® qualified for energy efficiency and security. The textured glass is sealed between tempered, clear glass sheets to provide reduced heat transfer, increased thermal performance and improved sound-dampening features within a reliably-constructed frame.
Classic-Craft® Craftsman Sidelites – New 12- and 14-inch Craftsman sidelites allow builders to create complete entryway systems with the Craftsman style that continues to be a favorite of homeowners and architects. Available in Classic-Craft® American Style Collection™ (with one panel recessed) and Classic-Craft® Canvas Collection™ (with one panel V-groove plank) to complement entryway systems in the same Therma-Tru families.
The Craftsman style sidelites are available with nine different glass options, including decorative Hazleton™, Savannah™, Villager™ and Homeward™ (with brushed nickel and black nickel caming); in Low-E glass; and, in the four privacy glasses of Chord, Chinchilla, Rainglass and Granite.
The sidelites are available in Therma-Tru's American-Style's fir-grained texture for staining or the Canvas Collection smooth surface for ease of painting to complement home interiors and exteriors. The factory-produced, flush glazed construction of the Classic-Craft Craftsman Sidelites increases durability, strength and moisture resistance of the units.
Fiber-Classic® Mahogany Collection™ 3-Panel Door – To meet consumer demand for fiberglass doors in hardwood grains with ¾-glass options, Therma-Tru has introduced the Fiber-Classic Mahogany Collection 3-Panel Door. The door can be configured for either ¾-rectangle or ¾-oval lites in 16 different decorative glass options, plus four privacy options, clear Low-E and clear glass.
The ENERGY STAR qualified doors are an affordable fiberglass door option featuring rich, premium hardwood graining. Like all Therma-Tru doors, the new Mahogany 3-Panel Doors are constructed for strength, security and performance and will not rot, warp or fade under harsh climate conditions. Door styles can be ordered in fire- and impact-rated versions.
Selection of the new Fiber-Classic Mahogany Collection style for the main entryway of the home provides builders with the option of creating a cohesive look throughout the remainder of the house by selecting other Fiber-Classic or Smooth-Star options for secondary entry areas. This expanded selection provides homeowners with more options for selecting similar door styles throughout the home but with different graining options.
Fypon® Stone and Timber – Launched mid-year in 2011, this decorative collection of 270+ high-performance polyurethane pieces features either a realistic stone or woodgrain texture on all exposed surfaces to accent homes with stone, stucco and timber as major design themes.
The Stone and Timber product offerings include window and door trim, decorative millwork, louvers, post wraps, trellis systems, stone surround systems, stone columns and stone balustrade systems. Each durable piece features rich, authentic textures and details to resemble traditional cast concrete or timber accents. Like all Fypon pieces, these products resist moisture, insect infestations, warping, cracking and splitting.
Innovating the Art of the Entryway
Celebrating its 50th anniversary in 2012, Therma-Tru is known as the company that
engineers its products for high performance as an entire entryway system. "We create our doors to work together for ease of installation, unified aesthetic appeal and long-term durability," says Randich. "By providing outstanding builder and remodeler support in the marketplace, coupled with quality products, Therma-Tru has been able to remain competitive for the past 50 years."
During its impressive history, Therma-Tru pioneered the fiberglass entryway system in 1983 with key features such as increased energy efficiency and eye-catching curb appeal elements. In 2007, Therma-Tru launched the Tru-Defense® Door System for entry and patio doors, providing builders and remodelers with advanced engineering to withstand damaging weather and harsh conditions.*
About Therma-Tru
Therma-Tru is the nation's leading manufacturer and most preferred brand of entryway doors. Founded in 1962, Therma-Tru pioneered the fiberglass entry door industry, and today offers a complete portfolio of entry and patio door system solutions, including decorative glass doorlites, sidelites and transoms, and door components. The company also offers low-maintenance Fypon urethane and PVC products. Headquartered in Maumee, Ohio, Therma-Tru is part of Fortune Brands Home & Security (NYSE: FBHS). For more information, visit http://www.thermatru.com, http://www.fypon.com or call (800) 537-8827.
*See http://www.thermatru.com for complete details on the Tru-Defense® Door Systems.
Images at: http://thermatru.com/news-events/media-resources/entry-door-images/
###