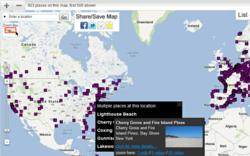 Think of us as a highly specialized Yelp or Trip Advisor strictly for naturists.
Reston, VA (PRWEB) February 16, 2012
MapMuse today announced the 2012 release of its Nude Beach and Naturist Maps, a series of web maps and an accompanying iPhone app that plot the locations of nude beaches, nude resorts, nudist clubs, nudist colonies, and nude runs around the world. The maps are intended to serve as the premier online guide and review platform for the Naturist community.
"Our maps and services have always been very popular with the nudist community," says Mike Pilon, owner of MapMuse. "This year, we're looking to parlay that popularity into a push to become the go-to platform for naturists who want to share and learn about local nude hotspots and hangouts."
In the past, naturists have been forced to rely on word of mouth and outdated print guides to find nearby beaches and meet-ups. With MapMuse's maps, the locations of nude beaches and other nude places of interest become readily accessible. Users can browse each map for nearby locations or search for ones far and wide, acquiring instant driving directions with the click of a mouse. Most beach and business listings are enriched with helpful web links, background information, and contact details, as well as user-submitted reviews, ratings, and photos. "Think of us as a specialized Yelp or Trip Advisor strictly for naturists," says Pilon.
While MapMuse dedicates significant resources toward ensuring that their data remains robust and up-to-date, the naturist community has played an equally large role in keeping everything current, despite frequent beach closures and legal attacks on public nudity. Users have the ability to suggest additions and deletions from each map; their suggestions are reviewed for accuracy by MapMuse's staff within 24 hours and either processed or rejected. "We do get the occasional prankster tagging their backyard as a nude hangout," says Pilon. "It's important to the naturist community that the maps maintain a high level of integrity, so we go out of our way to keep them accurate."
Naturists can now also access the maps from their mobile devices, provided they have an iPhone, iPad, or iPod Touch. MapMuse's "World Nude Beach Guide" retails for $2.99 on the iTunes App Store, and offers all the conveniences of the web maps plus some handy mobile features, such as one-touch dialing, emailing, and navigation. Users can also submit reviews and photos directly from their devices.
MapMuse, an internet and app development company based in Reston, VA is no newcomer to the locator business. Their website, which typically sees around seventy thousand visitors per day, has countless maps for what seems like every topic imaginable. "Although we try to cover pretty much everything, we definitely have our specialties and choice demographics," says Pilon. "As long as nudists continue to flock here in droves, we'll make sure there are plenty of useful maps for them."
To view a complete list of MapMuse's Naturist maps, please visit http://www.mapmuse.com/nude.
For more information on MapMuse, please visit their homepage at http://www.mapmuse.com.
###