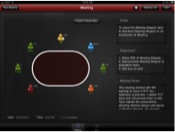 Allen, Texas (PRWEB) February 14, 2012
Mobile Application innovator Point N Time Software announced the release of Meeting Mapper.
The release of Meeting Mapper for the iPad is Point N Time Software's initial entry into the mobile application market. Meeting Mapper's design is based on countless interviews with sales professionals and project managers.
Travis Davis, President, Point N Time Software added, "In speaking with and interviewing many sales professionals and project managers we discovered the need for a mobile application that can be utilized by not only sales and project management professionals, but anyone that needs to easily document and disseminate meeting information."
Meeting Mapper provides an interface that can be used to quickly and easily gather and automatically document meeting minutes. Information included:

Graphical depiction of the meeting
User contact information
User notes
Meeting Goals
Meeting Objectives
Action Items
Free form meeting notes
Once the meeting is completed all the information is organized and saved in PDF format. The PDF can then be emailed from within the application or uploaded to the user's CRM application.
For more information about Point N Time Software and their product offerings please visit http://www.pointntime.com
About Point N Time Software
Point N Time Software was started to address needs in the mobile application market. The focus on mobile applications allows Point N Time to build robust, intuitive and easy to use mobile applications. Point N Time Software is located in Allen, TX and is a Disabled Veteran owned business.
Download Meeting Mapper today for only $9.99 from the iTunes App Store http://bit.ly/xxwzLr
###