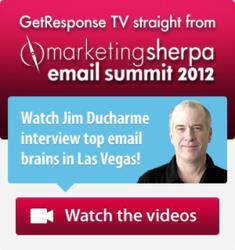 The experts were impressed by the questions our community submitted...
Wilmington, DE (PRWEB) February 14, 2012
GetResponse, the leading email marketing provider, released a series of video interviews with keynote speakers from MarketingSherpa Email Summit. The event was held February 7-10 at Caesars Palace Hotel and Casino, in Las Vegas, Nevada.
In one-to-one interviews in informal settings, top marketing brains talked about email marketing tactics, strategies to maximize email campaign effectiveness, and using email to build customer relationships.
About the Interviews
GetResponse Community Manager Jim Ducharme conducted the interviews. As you'll see in the videos, Jim employs a casual approach, fueled by his natural enthusiasm, to keep his interviews fun and informative.
The interviews were promoted with a Twitter contest that ran from January 25th through February 6th. GetResponse customers were asked to Tweet questions to be asked during interviews.
"I was blown away by the level of engagement we have with the GetResponse community!" said Jim Ducharme." Dozens and dozens of questions were submitted – in fact, so many that we just couldn't answer every single one of them".
Marketing Experts Interviewed
In 17 interviews, experts representing a broad cross-section of thought leaders from around the world provided answers and solid email marketing wisdom and insights.
Dr. Flint McGlaughlin - MECLABS
Brian Solis – Altimeter Group
Jermaine Griggs - Hear&Play Music
Marcus Sheridan - TheSalesLion.com
Dennis Dayman - Eloqua
Sundeep Kapur - EmailYogi.com
Adam Sutton - MarketingSherpa
Brian Clark - CopyBlogger.com
Jeff Ginsberg - The Email Guide
Todd Lebo - MarketingSherpa
John Caldwell - Red Pill Email Marketing
Ryan Phelan - Blue Hornet
Sergio Balegno - MECLABS
Daniel Burstein - MarketingSherpa
Brian Carroll - MECLABS
Pamela Markey - MECLABS
Francine Cianflone - MECLABS
"The experts were impressed by the questions our community submitted," noted Jim Ducharme. "Their questions demonstrated a keen desire for a deeper understanding of email marketing and a focus on doing it right."
Advice from the Experts
Two themes appeared continually during the interviews.
Listening to customers - Effective email campaigns are more about what the customer wants and needs, rather than about what the marketer wants to provide.
Testing campaigns – The key to stronger sales is to monitor conversions, make improvements based on testing results, and retest again and again.
Performing these high-impact activities consistently means more effective campaigns and better ROI.
"Generating good content is as easy as mining the interactions of your customer-facing employees," said Jim Ducharme. "They are the ones who know what questions your customers are asking! Gather those questions then generate content by answering them. You'll be amazed at how easy this process is."
To watch video interviews go to: http://www.getresponse.com/promo/emailtv
About GetResponse
GetResponse has invested heavily in providing the best integrated analytics tools available today, along with a built-in survey tool for collecting market data rapidly. GetResponse, flagship of Implix Corporation, boasts an average 99.3% deliverability rate, achieved through adherence to principles of permission-based marketing and best industry practices, and by collaborating with major ISPs and industry associations to develop superior email delivery technology. GetResponse has grown to more than 220,000 active users from 183 countries, delivering 10 billion permission-based emails per year. Clients include: GlaxoSmithKline, Intercontinental, University of Arkansas, Vemma. For more information, please visit http://www.getresponse.com
###