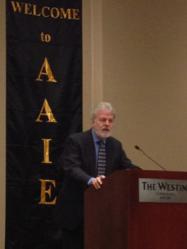 Rules and handbooks are meant to serve as guides for our decisions; not to constrain them. Life is not black and white, and there are always exceptions when dealing with children.
Boston, MA (PRWEB) February 14, 2012
Dr. Richard Spradling, Director of the American School of The Hague (ASH) in The Netherlands was awarded this year's Ernest Mannino International Superintendent of the Year Award. The Association for the Advancement of International Education (AAIE) awards the distinction to an international school superintendent who demonstrates exemplary leadership. This year the award was presented by Forrest Broman, President of The International Educator, which sponsored the award.
Broman stated: "There is a strong urban legend that schools in Europe with strong unions, long-term staff and strong bureaucracies are very resistant to change and improvement efforts -- Rick Spradling has turned this myth on its head. Through strong and effective leadership, and the ability to put cooperation before confrontation, Rick has brought significant and positive changes to the American School of The Hague, during his seven years as headmaster there."
Dr. Spradling addressed the packed room of over 400 international school professionals from all corners of the globe. He immediately distinguished himself with his self-effacing sense of humor, remarking how difficult it is to accept the award because "You are all worthy of this honor," referring to his fellow school heads.
Spradling acknowledged the previous recipients and said he's standing on their shoulders and mentioned individually over a dozen predecessors and their unique contributions and influences on him. Spradling managed to weave in his thoughts on such topics as income inequality in the U.S. and other developing nations, the need for the international school community to do a better job of promoting women into leadership positions, the evils of apartheid and the parallels to the racially charged environment of Alabama in the 1950's where he grew-up.
"Africa was a great choice for me after having grown up in Alabama in the 1950s and 60s; having been raised by African-American maids and gardeners [have you seen or read The Help], I felt totally at home in Africa. I found the source of the cultural and linguistic rhythms that had infused my youth."
Spradling recapped his over thirty year career with anecdotes about assignments at schools in Cameroon, Gabon, Tunisia, Austria and The Netherlands to name a few. He talked about emergencies both large and small, such as having to close on the first day of school in Gabon due to no running water or functioning toilets – his version of a "snow day" -- to more serious security issues in Tunisia. "Arriving just before the invasion of Kuwait in the First Gulf War, students, faculty and staff lived with great fear of the unknown (Scud missiles? Gas attacks?)," he recalled as he described the scene of tanks and armed soldiers stationed in front of the school. "I had to go through barbed wire and sniper to get mail at the embassy," he remembered. As school head, Spradling was responsible for overseeing the evacuation of 60% of students and 40% of staff over one weekend in January.
Despite these grave security concerns in hot spot regions of the world, it was clear from Spradling's reminiscing that it is the more typical, yet inexplicable losses or tragedies that can occur at any school at anytime that rock a school community to its foundation. From the untimely losses of a high school senior to meningitis and a teacher to malaria, to the handling of a child traumatized by unspeakable abuse at home – all crises that occurred during his first year at the helm in Vienna and all crises that tested his leadership and ability to remain calm under extreme emotional duress.
"At some time in your first year at a new school, a crisis (small or large) will occur, which will be the crucible in which your leadership will be forged solid, or flawed and weakened," Spradling said. "How you respond to that crisis will define your entire time at the school."
The roller-coaster ride of managing an international school in far-flung locations throughout the world was one that every school head in the room knew about in their own personal way. Despite the dramas of a long and distinguished career, Spradling shared with the audience that he has a "No Drama Policy." "No, this does not mean we're avoiding theatre arts," he explained, "just keeping things going on an even keel."
Spradling concluded with some common sense advice for fellow school leaders: "Rules and handbooks are meant to serve as guides for our decisions; not to constrain them. Life is not black and white, and there are always exceptions when dealing with children," he cautioned. Finally, he imparted perhaps the three most important rules of success for any leader: "Humor, humor and humor!" and to that he received a resounding standing ovation.
The International Educator (TIE), located in Hyannis, MA, is a non-profit organization that for 25 years has been dedicated to developing links among teachers and the extensive American and international schools network worldwide.
###