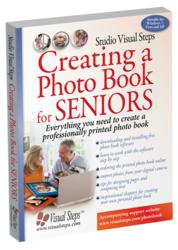 Creating a beautiful photo book of memories has never been easier with this comprehensive book!
New York, New York (PRWEB) February 15, 2012
Using free photo book software, this book explains how to lay out a story with text, photos and other graphical elements. This book offers many original ideas and practical tips for composing text, like the story of a childhood, a son or daughter's wedding, a family history, a travelogue, a chronicle of a baby's first year or even an autobiography.
The reader will also learn to transfer photos from a digital camera to a computer, incorporate them into the photo book and scan photos or other historical documents to further enrich their personal photo book. Finally, the user can take advantage of the printing services offered by the photo book provider to insure a beautifully-crafted and professionally-bound photo book at the end of the process. Creating a photo book has never been so easy!
Creating a Photo Book for SENIORS
Author: Studio Visual Steps
Number of pages: 240
Book type: Paperback, full color
ISBN: 978 90 5905 247 5
Price: US $19.95 Canada $21.95
Support website: http://www.visualsteps.com/photobook
Suitable for: Windows 7 / Windows Vista / Windows XP
Topics covered in this book:
•download and install the photo book software
•work with photo book software get the photo book printed
•transfer photos from a camera to the PC, scan photos
•use practical and creative tips for writing and layout
•view inspirational chapters to help the user compile the photo book
Visual Steps is the very successful publisher of the well-known computer books for Seniors and is dedicated to help individuals over the age of 50 participate in the cyber-age. More than 25.000 copies of the title Windows 7 for Seniors and 80.000 of Windows XP for Seniors have been sold.
All of the Visual Steps books follow the same methodology known as the Visual Steps Method. This method distinguishes itself in a number of ways from traditional instructional methods. Attention is made to the special needs and requirements of the mature individual. Each product:
Allows anyone to start learning in a friendly, fun, hands-on manner.
For over 10 years, Visual Steps Publishing, a Dutch based company, has specialized in the publishing of practical and accessible computer handbooks, software user guides and other instructional materials that are tailored to senior citizens. We have sold more than one million copies of our books worldwide. Besides publishing books sold in retail, we also publish tailor-made instructional materials for seminars, training programs for corporate clients and educational institutions. The Studio Visual Steps team of authors is comprised of a variety of professionals, all thoroughly experienced in their own subject field.
The Visual Steps books are distributed by IPG. More information and hi-resolution images of covers can be found on http://www.visualsteps.com/press.
# # #