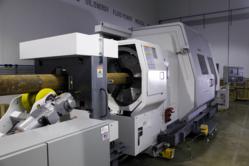 AEC's partnership brings great advancement and productivity to oil and gas pipe manufacturers in Texas. (Jeff Estes, Director of Partners in THINC)
Charlotte, NC (PRWEB) February 14, 2012
Okuma America Corporation is pleased to announce that AEC (Automation Engineering Corporation), a leading provider in automated machinery and control systems, has joined Partners in THINC.
As an established company with more than 60 employees, many of which are registered Professional Engineers, AEC is able to offer a wide array of skills and technical expertise to every customer ensuring custom solutions to some of the most challenging equipment and automation demands.
When it comes to designing and manufacturing, AEC has no limitations. AEC understands their customers' needs and continuously strives to provide the world with the most functional, and productive solutions. AEC supplies many industries including: Automotive, Industrial, Greenhouse, Material Handling, Food & Beverage, and Pharmaceuticals, in which they tailor every project to produce quality, timely solutions that ultimately convert any impossible problem into a very real solution.
AEC's pipe handling system uses servo motors versus hydraulics to feed and remove the piping from the manufacturing processes. The servo drives allow for more precise and repeatable positioning while reducing the maintenance required to keep the systems operating to peak performance. AEC products can be seen and demonstrated at the Okuma Tech Center in Houston.
About Okuma America Corporation:
Okuma America Corporation is the US based affiliate of Okuma Corporation, a world leader in the development of computer numeric controls (CNC) and machining technology, founded in 1898 in Nagoya, Japan. Known for its technology leadership and world-class manufacturing, product quality and dedication to customer service, Okuma strives to be the machine tool solution provider to manufacturers worldwide. For more information, visit http://www.okuma.com
About Partners in THINC:
Partners in THINC is a unique facility and concept offering integrated solutions and a one-stop-shop designed to streamline current manufacturing processes, improve capabilities, or for exploring advanced manufacturing options. Each member of Partners in THINC brings specialized equipment, expertise and a commitment to provide the best possible integrated solutions to the end-user. For more information, visit http://www.partnersinthinc.com.
About AEC (Automation Engineering):
Automation Engineering Corporation has provided factory automation and control system equipment and engineering services to manufacturers for twenty five years. Founded in 1981 and located in Greenville, SC, the company is employee owned. AEC's highly trained and experienced staff is committed to improve clients' profitability with custom solutions, expertise and support throughout and after the project. AEC Quality Management System is registered to ISO 9001-2000 for design operations. For more information, visit their website at http://www.teamaec.com.
###