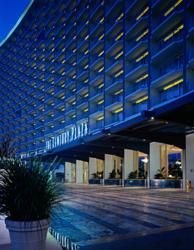 Los Angeles, CA (PRWEB) February 14, 2012
The savings have never been sweeter at Hyatt Regency Century Plaza in Los Angeles now through Labor Day! An affordable way for families and friends to share time together, guests will have the option of purchasing a $150 food and beverage credit for $100 upon check-in. This is a 33% savings on all food and beverage and can be used at all of the hotel's dining establishments including the award winning Breeze Restaurant, Lobby Court & Patio and Xbar during the guests' stay. The $150 food and beverage credit is only available for hotel guests that check-in on Thursday, Friday and/or Saturday. Guests must opt to spend the $100 upon check-in. For more information and reservations visit http://www.centuryplaza.hyatt.com or call 310-228-1234.
About the dining at the Hyatt Regency Century Plaza Hotel:
Breeze Restaurant
Set within the historic Hyatt Regency Century Plaza, Breeze is the signature restaurant of this luxury Westside resort and has consistently delighted guests and critics with a flavorful, creative menu. The menu changes seasonally, offering guests a high-quality selection of California cuisine and fresh sushi plus vegan options. Guests and locals alike return time and again to the award-winning Breeze to sample innovative creations. Whether joining colleagues for a working dinner or gathering with friends for an afternoon delight, Breeze serves up the perfect combination of ambiance and taste.
Lobby Court & Patio
Surrounded by the hotel's stunning lobby, Lobby Court & Patio is the premier location for all day dining, catching up with colleagues, or meeting friends before heading out for a night on the town. The Lobby Court & Patio's Hollywood glamour, drama and sophistication achieve intimacy with its small group seating arrangements, flattering eye level lighting and plush fabrics. The Patio invites guests to indulge in the joy of outdoor Los Angeles CA living by cozying up to a central ethanol-burning fireplace under a permanent outdoor canopy. Small plates from around the world are available along with classic cocktails throughout the Lobby Court and Patio areas.
Xbar
Creative cocktails, eclectic small plates, fire pits and an outside screening wall make Xbar the perfect spot for after work gatherings, intimate get-togethers and larger events. This sexy, urban sanctuary has a nightly happy hour and exquisitely composed cocktails that will make any good day better and any bad day forgettable. For more information, visit: http://www.xbarla.com.
The 33% savings on food and beverage is available at all three of the Hyatt Regency Century Plaza's dining establishments making it the best deal in town for single travelers and families alike!
About Hyatt Regency Century Plaza
Located at 2025 Avenue of Stars in the heart of Los Angeles' fashionable Westside, the Hyatt Regency Century Plaza is often frequented by celebrities, politicians and dignitaries. All of the hotel's 726 guestrooms and suites are designed with modern décor with residential touches. Hotel amenities include: a one of a kind, ground level, VIP Regency Club; a Starbucks Coffee Bar; a state-of-the-art Equinox Fitness Club & Spa; the famous Lobby Court & Lounge; Les Clef d'Or Concierge staff; an infinity edge pool; on-site Hertz rental desk and 24- hour in –room dining service. For reservations and more information, call: 310-228-1234.
###