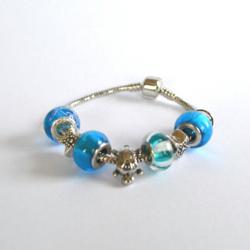 We never expected such a high demand...
Leicester, England (PRWEB UK) 15 February 2012
Cutey the manufacturer of beautiful charm bracelets has announced it's latest range. Inspired by Greek mythology Cuteys latest range provides a low cost, high quality alternative to the more expensive products already on the market. The whole Cutey range is named after primordial Greek deities such as Momus(blame), Pontus(Seas) and Hynos(Sleep).
Cutey was formed in late 2011 and quickly sold out of it's initial range, it's new range which consists of new designs and upgraded beads, and has been eagerly awaited by adults and teens alike, the world over. Well known for their ability to design eye catching pieces that are steeped in mythology and mystery, Cuteys jewellery comes in at a fraction of the cost of their rivals.
The company has plans to expand it's distributors and break new ground by targeting stores in mainland Europe as well as the US and Canada. Cutey has been getting rave reviews from fashion bloggers across the internet for their unique style and widely appealing charm bracelets and is excepted to be received well by the teen market.
Company founder Ashley Peach elaborates "Our initial range blew all of our expectations by selling out in just two weeks! We never expected such a high demand and were taken back by the overwhelmingly positive reviews. The teen market has been huge for us and the fact teens are so heavily into social media has allowed our brand to grow very quickly."
###